Better Care Together project is part of the national vanguard programme
Work seen as crucial to future of University Hospitals of Morecambe Bay FT
Current system "trapped in annual contracting cycles" and payment models with the wrong incentives
STRUCTURE: Health leaders in Morecambe Bay will look to establish an "accountable care system" in shadow form by April, with a view to full implementation in December.
The Better Care Together project is part of the new care models vanguard programme, and is seen as key to ensuring the viability of services run by University Hospitals of Morecambe Bay Foundation Trust.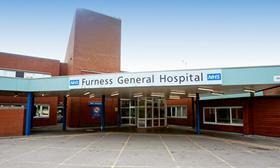 A report to Cumbria Clinical Commissioning Group's board meeting in December said: "The basic concept of an ACS in Morecambe Bay is that a group of providers agree to take responsibility for delivery of all care for the population of 365,000 people for a defined period of time under a contractual agreement with a commissioner.
"This is not the case in the current system which is trapped in annual contracting cycles, organisational rather than system regulation and payment models which do not create incentives for the outcomes we need."
The paper said a staged approach has been proposed, which would enable primary care, community services and hospital services to be included in the initial scope, while more time is taken to consider the implications for tertiary services, adult social care, children's services and learning disability services.
It added: "The vision of the ACS in Morecambe Bay also has direct implications for existing commissioning models in the NHS and in social care.
"Whilst some strategic commissioning functions will sit outside the ACS (in order to agree the major outcomes required for the population), several functions currently undertaken by commissioning organisations (eg: prescribing support to general practices, commissioning of complex packages of care) are expected to be subsumed within the ACS."
In December 2016 a proposal will be made on the appropriate way forward, which "may be to create a full accountable care system" or to move towards an "accountable care organisation".
A "system" model would involve a legal form of collaboration, such as a new joint corporate vehicle such as a social enterprise or limited liability partnership, or a new contractual mechanism such as prime provider contracting.
An "organisation" model would create a new organisational form to deliver agreed shared objectives and outcomes.