University Hospitals of Morecambe Bay chief wants to make her hospital "as small as humanly possible"
Trust plans to reduce number of beds over the next year as part of vanguard project
STRUCTURE: The chief executive of University Hospitals of Morecambe Bay Foundation Trust has said she hopes to make her hospital "as small as humanly possible" as part of its new care model plans.
At a King's Fund event on the development of primary and acute care systems and multispeciality providers, Jackie Daniel said: "My strategy is to make my hospital as small as humanly possible. As part of the plan this year we're taking out 65 a clinics week and we will close three wards at the end of this year and that is absolutely the strategy."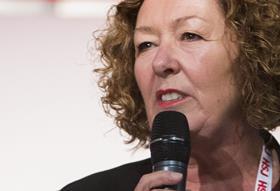 A trust spokesman later clarified to HSJ that as part of plans to care for more patients outside hospital, it would be reducing the number of hospital beds, which would equate to two wards across its three main sites.
In March 2015 Morecambe Bay was announced in the first wave of new care model vanguards as a PACS. In February the trust revealed plans to establish an "accountable care system" with a view to full implementation by December.
The business case submitted by Morecambe Bay in January projected that integrated care communities and clinical networks could reduce secondary care bed days by at least 25 per cent over the next five years.
During the event last week Ms Daniel insisted that emergency services at the trust would be protected from closure.
She said: "One of the things we did very early on was talk about what were the stakes in the ground, where were the red lines, what would we not go beyond. For us… it was that we would have two emergency units, providing emergency services and obstetrics at both sites at in Barrow and Lancaster.
"I keep getting challenged by tough financial calls, saying can you pull one of your stakes up?'. Absolutely not and if you come up to visit us you'd understand why – everything else is up for grabs…
"We are the largest provider if you think about it in [acute] terms across the patch. It's really important that we lead the way and really shift the mind set in acute provision, which is really challenging but doable".
In a statement the trust said: "The shift in care closer to people's homes will mean that fewer hospital beds will be needed and our plans envisage this would be the equivalent of two wards, spread across our three main hospitals.
"Our strategy is also to reduce our outpatient clinics by around 65 per week over the next few years. This will be achieved through new ways of working, such as the wider roll out of our consultant led GP advice and guidance service and virtual clinics, which have recently been trialled. Our plan as a vanguard for this financial year is for a reduction of around 25 clinics."
Source
Event and information given to HSJ