Shell organisation cost taxpayers £2.46m since November 2014
Trust will cease to exist on 1 November after three year dissolution
Francis inquiry cost £19m and £300m was invested in the health economy
The hospital trust at the centre of one of the worst care scandals in the NHS's history will finally be dissolved tomorrow after three years as a shell organisation costing taxpayers £2.5m.
Mid Staffordshire Foundation Trust will formally cease to exist on 1 November after the shell organisation, which had no staff and provided no services, is legally dissolved.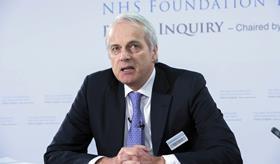 It will bring to an end a decade of scandal involving the trust, which ran Stafford Hospital, where hundreds of patients suffered "routine" poor care and neglect.
HSJ has learned the shell organisation, which was managed by trust special administrator Tim Rideout since 1 November 2014, has cost taxpayers £2.46m.
The cost of the trust special administrator was £40,000 with an associated £1.88m spent to run the shell organisation. This included the production of documents such as an annual report and employing auditors KPMG.
The trust also spent £540,000 on court fines and legal fees after pleading guilty to four criminal charges brought by the Health and Safety Executive over separate cases of poor care and patient deaths. It has paid out more than £1m in clinical negligence compensation.
In 2013, Sir Robert Francis QC published the results of his public inquiry into the care scandal, after examining 250 witnesses and more than 1 million documents.
Sir Robert concluded hundreds of patients at the trust experienced "appalling and unnecessary suffering". "They were failed by a system which ignored the warning signs and put corporate self interest and cost control ahead of patients and their safety," he said.
His inquiry cost £19m, excluding costs for other NHS bodies taking part in the investigation. An earlier independent inquiry by Sir Robert cost £1.7m and followed a year long investigation by the Healthcare Commission.
The trust special administration process, which led to the dissolution of the provider, cost almost £20m – on top of £2.7m spent by Monitor of its contingency planning team. The Department of Health agreed to invest more than £300m into the Staffordshire health economy from 2014 to mitigate the dissolution of Mid Staffordshire FT.
Stafford Hospital, now known as County Hospital, has had a £47m refurbishment including every ward and the addition of a new emergency department and four new wards. The trust's A&E has faced criticism for its care of children and has been threatened with closure in the local sustainability and transformation plan.
When the TSA funding stopped in April, University Hospitals of North Midlands Trust, which now runs the hospital, revealed a £119m deficit for 2017-18.
An NHS Improvement spokesman said: "The services, staff and assets of Mid Staffordshire Foundation Trust were transferred out of the organisation on 1 November 2014. After this, the trust was kept on in a very limited form as a 'shell organisation'. A shell organisation means that there is still a legal entity for outstanding criminal action to be brought against.
"Now that the HSE has confirmed that there will be no further prosecutions of the trust, we are in a position to formally dissolve it. This will happen on 1 November 2017. The HSE is supportive of the trust being formally dissolved."
Source
Information provided to HSJ