Major fire at Royal Stoke University Hospital on Wednesday night
Patients were evacuated from the building in their beds until the fire was put out
Some patients were still in the hospital and being evacuated an hour after the fire started
Patients were evacuated from a hospital in their beds last night after a fire broke out in the main hospital building of University Hospital of North Midlands Trust in Staffordshire.
The trust, a major trauma centre and acute provider for the region, declared a major incident and requested people did not attend the accident and emergency department at the Royal Stoke Hospital.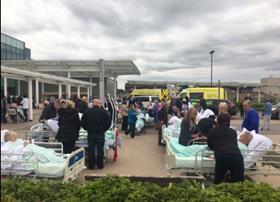 Six fire engines were sent to the hospital to put out the fire, which started around 6pm.
Photos on social media showed patients in their beds outside the hospital and some were lying on mattresses on the floor.
Paul Bradbury, whose mother was evacuated, said: "Staff worked very well after the evacuation after the fire was discovered." He said the situation was under control.
However, another relative shared pictures of patients in their beds queuing in a hospital corridor to leave the building more than an hour after the fire had started.
Dominic Ryles said on Twitter: "Huge fire at North Staffs hospital, patients being evacuated but lack of plan has led to no one being comfortably taken out!"
He told the Daily Mirror he had been visiting his aunt when the fire started and the alarm sounded.
He said: "Fifteen minutes later, there was a rush of nurses in and they were telling people to get out. We started moving the bed. [My aunt] can't walk as she has a broken leg.
"As we were taking her out of the ward, it was the ward next to us that had the smoke billowing through doors.
"As we got out into the corridor, it was complete carnage – gridlock of beds trying to get out because the lifts were out of order."
Consultant Ashish Patwala tweeted: "It's been a busy evening, all returning to normal patients been brought back into the building. Staff were fantastic."
In a statement last night, the trust said the fire was quickly put out and all patients returned to the main building yesterday evening.
It said: "The trust is advising patients not come to the accident and emergency department at Royal Stoke University Hospital at this time. Patients should continue to attend their outpatient appointment unless contacted directly. Anyone listed for theatre [on Thursday] should call the ward before travelling to their appointment."
Source
Information provided to HSJ; press reports