UHNM and Royal Wolverhampton trusts both seeking millions in additional funding linked to dissolution of Mid Staffordshire FT
UHNM forecasting a year-end deficit of £119m in 2017-18
Mid Staffs trust special administration process ended in March after £300m extra funding
Trust leaders in the Midlands are seeking millions of pounds in extra financial support linked to the dissolution of Mid Staffordshire Foundation Trust, HSJ has learned.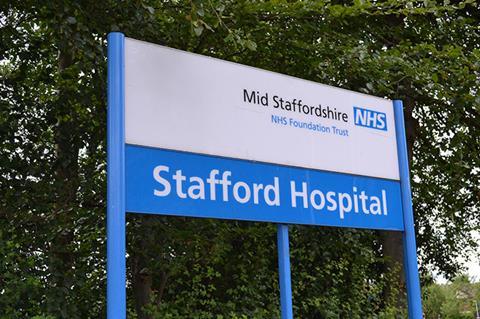 University Hospital of North Midlands Trust is forecasting one of the largest year-end deficits in the country for 2017-18 at £119m.
HSJ has learned it has asked NHS Improvement and the Department of Health for at least £15m in additional funding to cover costs associated with the services the trust took over at Stafford Hospital more than three years ago.
The Royal Wolverhampton Trust has also asked the DH and NHSI for at least £6m in funding linked to services it took over in Cannock Chase, a hospital previously part of the Mid Staffordshire FT.
Discussions with the Department of Health and the regulator are ongoing and no decision has been reached, HSJ understands, but the need for additional money underlines the failure of the trust special administration process designed to break up Mid Staffs and put in place a three-year deal on transition funding worth more than £300m.
NHS England is already providing £15m of funding to Stafford and Surrounds Clinical Commissioning Group as part of the TSA process.
By the end of April, UHNM was reporting an in-year deficit of £14m and had a total drawdown revenue facility from NHSI of £116m. In March the trust was put in financial special measures.
Budget papers for the Royal Wolverhampton said: "The normalised position of the trust, as detailed in the monthly trust board reports and NHS Improvement submissions during 2016-17, prior to any new financial targets/challenges is a £32m deficit. The trust wants to re-establish a firm financial footing, but believes that this needs to be achieved through a challenging, but achievable financial target."
The trust is forecasting an £11.6m surplus in 2017-18 but the papers added: "The plan assumes continued support for the £6m deficit on [the Mid Staffordshire FT] transaction."
The TSA process cost almost £20m and was led by Hugo Mascie-Taylor and Alan Bloom, from consultancy firm EY. They took over the running of the Mid Staffordshire trust in April 2013 with EY being paid more than £3.3m for professional services during the process.
NHSI said any final decision on additional funding would be made by the DH. A spokesman added: "While special administration remains a last resort for dealing with struggling providers, it is clear that the solution often lies as much in the local health economy as it does in individual organisations.
"In the years since the TSA process was launched the NHS has faced significant financial challenge and the impact has been felt in Staffordshire too. We recently announced that we are stepping up our support for University Hospitals of North Midlands and will continue to work hard to help it improve its finances."
Source
Information provided to HSJ; trust board papers