A trust's stroke services deemed "unsustainable" by commissioners are set to be taken over by a neighbouring provider.
Walsall Healthcare Trust could lose its stroke services to the Royal Wolverhampton Hospitals Trust after agreeing with commissioners that its service is not sustainable.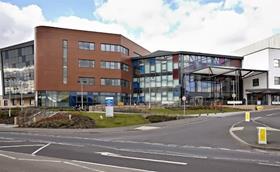 Walsall Clinical Commissioning Group is has published a proposal that could see all acute stroke services in Walsall transferred to Wolverhampton.
The move follows 500 births a year being moved from Walsall – which is rated inadequate by Care Quality Commission – to Royal Wolverhampton in March 2016.
According to a business case, published by the CCG last week, Walsall sees between 400 and 600 stroke patients a year.
"To be a viable hyper-acute stroke service it is recommended that there is a minimum of 600 confirmed stroke patients each year. For Walsall Healthcare Trust the income from activity of 400 stoke patients is insufficient to fund staffing levels," the document said.
The reconfiguration plans are set to be approved by commissioners in September following a public consultation, with the new service due to be in place by April 2018.
Plans to reorganise stroke services in Walsall have been discussed since 2012 and in 2014 the two trusts discussed the possibility of merging their services.
In June, both Walsall CCG and Walsall Healthcare Trust agreed the trust's stroke services were no longer sustainable. However, the CCG is looking to contract the trust to provide an early discharge and rehabilitation service for stroke patients.
Prof Simon Brake, chief officer for Walsall CCG, said: "Moving forward we know that to deliver acute stroke services for Walsall residents, we require a reasonable scale to ensure that there is sufficient consultant coverage to provide safe and sustainable services.
The CCG will be working with the Trust and Healthwatch Walsall to carry out further public engagement and this will be used to help the CCG decide the best proposal to take forward."
Richard Kirby, chief executive of Walsall Healthcare Trust, said "Engagement and experience with patients tells us that they prefer to be closer to home when recovering. This means that Early Supported Discharge and community stroke rehabilitation elements of the patient pathway would continue to be provided in Walsall.
"There will now be a period of further public engagement before the Trust and CCG make a final decision on the way forward".
Source
CCG governing body papers