West Hertfordshire Hospitals Trust chief executive Katie Fisher to leave
New role at St Andrew's Healthcare, a charity which provides a range of specialist mental health services
She leaves after navigating the trust out of special measures
The leader of a financially struggling acute trust is leaving to become chief executive of a mental health charity.
Katie Fisher will depart in the summer to take over at St Andrew's Healthcare.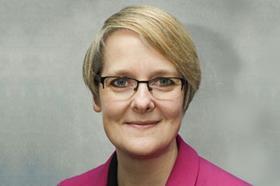 St Andrew's is an independent provider of mental health services to the NHS and the Ministry of Justice, including adult and child and adolescent mental health services.
Ms Fisher will take up the role on 25 June.
She joined the trust in 2016 and steered it out of special measures in January.
It is still in financial difficulty and predicts it will miss its control total of a £35m deficit for 2017-18.
Ms Fisher joined the NHS management training scheme in 2000 having trained as a nurse.
Trust chair Professor Steve Barnett said she will be missed by staff and her departure was a loss to patients.
He said: "Under her leadership we came out of special measures, improved upon a wide range of clinical outcome measures for patients and increased our staff satisfaction rates in national surveys.
"Many hospital trusts would be pleased with just one of these three achievements."