Regulators have ordered a mental health trust to make significant improvements at a high secure hospital, after concerns were raised in three inspections.
The Care Quality Commission said today it had issued a warning notice to West London Mental Health Trust telling it to improve patient care at Broadmoor Hospital in Berkshire.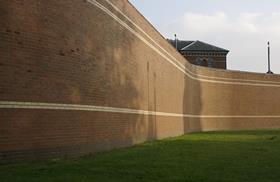 The notice comes after two previous inspections flagged up staffing at Broadmoor as a concern and made improving staffing levels a "must do" for the trust.
A third inspection in November found the trust still did not have enough suitably qualified staff deployed to meet patients' needs – with 68 nursing vacancies.
The CQC said the notice required the trust to make "significant improvements" by June 2017.
However, the regulator would not publish the wording of the notice and said it would not comment further until the full inspection report comes out next year.
Deputy chief inspector of hospitals Paul Lelliott, who is also the CQC's lead for mental health, said the lack of staff was affecting patient care and treatment.
He said: "We have told West London Mental Health Trust that it must improve the quality of care that it provides to patients at Broadmoor Hospital.
"We found that too often, staff shortages led to the cancellation of social and therapeutic activities, including for patients who had been confined to their rooms all night.
"It also meant that some patients in long term segregation did not always have the opportunities to associate with other patients that had been agreed in their care plans"
Inspectors rated the trust's forensic and high secure services inadequate after a visit in June 2015, and the trust was rated requires improvement.
The inspection report, published in September 2015, flagged up staffing shortages caused by recruitment and retention problems as a key concern in the trust's high secure services.
In a follow up inspection in August 2016, the CQC found there were still staffing issues at the high secure hospital and reiterated that improvement was a "must do" for the trust.
The November inspection was to check what progress the trust had made meeting the requirements set out by the CQC after its previous visits.
A spokesman for West London Mental Health Trust said a number of measures have been put in place ot try to tackle the staffing problems at the high secure hospital, including:
relocation packages for qualified nurses;
a preceptorship programme with accelerated pay progression to support newly qualified nurses to transition from student to registered nursing duties; and
a bespoke career development pathway for healthcare assistants to become assistant practitioners or qualified nurses.
He added: "Like many other NHS trusts we face difficulties in recruiting suitably qualified, specialist registered mental health nurses and other clinical staff.
"We recognise the CQC's concerns that this is causing particular challenges at Broadmoor Hospital and have been and are acting swiftly to rectify the situation."
Source date
9 December 2016