West Suffolk FT joins elite group of 14 trusts rated outstanding by CQC
Inspectors praise staff engagement and communication between senior leadership
Some improvements are required in outpatient services
West Suffolk Foundation Trust has joined the elite band of just 14 NHS providers rated outstanding by the Care Quality Commission.
The regulator said the trust had improved since it was rated good in March 2016 and becomes only the seventh acute provider to get the top rating. Half the organisations on the list are specialist trusts (see box).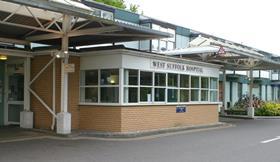 West Suffolk was rated outstanding on whether its services were caring, effective and well led and good for whether its services were safe and responsive in a report published today, following an inspection in November and December.
Chief inspector of hospitals Ted Baker said there were "many notable examples of outstanding practice" and congratulated the staff for their "hard work".
Professor Baker said: "The work with the newly appointed public health consultant has given the trust an excellent understanding of the needs of their local population.
"Staff engagement was exceptional and communication between senior leadership and its teams gave a clear understanding of the vision for the trust, which put the patient at the heart of all they did.
"While we identified a small number of areas, exclusively in outpatients, where the trust could make some improvements, [overall] we found a trust that provides excellent care during our inspection."
Inspectors also noted that end of life care was particularly strong, which the trust provides in conjunction with charity Macmillan.
Some improvements were required in outpatient services. The report said: "Inspectors were not assured equipment was regularly tested for electrical safety, there was no obvious information available regarding chaperones, meaning patients didn't know to ask for one if needed and there was a backlog of patients awaiting outpatient appointments some of whom had been waiting more than 52 weeks for first treatment.
"Overall, however, the CQC found a trust and staff that was caring and dedicated to providing a high standard of care which focused on patient needs.
Trust chief executive Stephen Dunn said: "This is a testament to everyone's hard work and unwavering commitment. I am privileged to see the incredible care our staff provide 24/7, 365 days a year, and I'm delighted that their efforts have been recognised by the CQC.
"I am particularly proud that our end of life service has moved from requires improvement in our last inspection, to outstanding. Good end of life care is tailored to the person who needs it, and this report shows that our staff go above and beyond to ensure comfort, dignity and kindness is at the heart of what they do.
"Although we have been rated outstanding we know we are not perfect. There are areas we still need to work on and the report will help us to focus on addressing these so we can continue to improve."
The 14 trusts rated outstanding
Birmingham Women's and Children's FT
The Christie FT
The Clatterbridge Cancer Centre FT
East London FT
Frimley Health FT
Liverpool Heart and Chest Hospital FT
Newcastle upon Tyne Hospitals FT
Northumberland, Tyne and Wear FT
Northumbria Healthcare FT
Salford Royal FT
University Hospitals Bristol FT
The Walton Centre FT
West Suffolk FT
Western Sussex Hospitals FT