Taunton and Somerset Foundation Trust and Weston Area Health Trust spent £3.6m on failed merger
Taunton and Somerset spent £1.9m on professional advisers after being made "preferred acquirer"
Revelations follow Simon Stevens' criticism of time and money wasted on "flawed" acquisition processes
FINANCE: The NHS spent £3.6m preparing for a hospital merger that was eventually abandoned, HSJ can reveal.
Figures obtained by HSJ using the Freedom of Information Act show Taunton and Somerset Foundation Trust spent just under £3m developing plans to take over Weston Area Health Trust – the smallest acute trust in the country.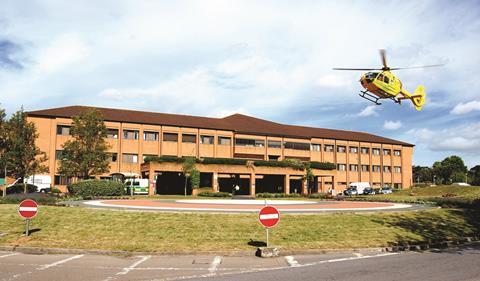 The NHS Trust Development Authority, which covered most of Taunton and Somerset's costs, said it was important it could carry out "the thorough and extensive work required to assess the viability of transactions like these".
In 2011 Weston's board said the £100m turnover hospital was not viable in its current form.
Following failed attempts to create an integrated care provider and a franchise arrangement, in October 2014 Taunton and Somerset was the only provider left bidding to run the trust.
However, in October this year the TDA halted the takeover because it said the two organisations "would not represent a clinically or financially viable organisation".
According to the figures obtained by HSJ, in total the NHS spent £3.6m preparing for the dropped merger.
Taunton and Somerset spent just under £3m developing plans to acquire Weston. It spent £97,000 on consultancy support to prepare a feasibility study and bid. However, the majority of the costs were incurred preparing a business case after it was appointed "preferred acquirer".
The trust spent £1.9m on "professional adviser costs", £831,000 on "internal project management and staff backfill costs" and £120,000 on what it described as a Competition and Markets Authority fee (the CMA stated to HSJ that this fee had not been paid to it).
According to Taunton and Somerset these costs were all "agreed with and funded by the TDA".
The £1.9m spent on professional advisers went to EY, law firm Wragge and Co, and Frontier Economics.
Weston Area Health spent £634,460 preparing for the transaction – £112,799 covered internal costs and £521,661 covered external suppliers.
The trust spent £90,000 on financial advice, £172,385 on legal advice from Capsticks, £147,162 on commercial advice from the Strategic Projects Team and £97,756 on "vendor due diligence" from PwC.
NHS England chief executive Simon Stevens earlier this year criticised the health service for wasting time and money on organisational mergers.
Mr Stevens said: "I find too many parts of the country where deep seated problems are stalemated in flawed so called 'acquisition processes' that drag on for years, cost oodles in management consultancy spend and deliver slightly less than diddly squat."
The two trusts involved in the failed merger remain financially troubled.
Weston is forecasting an £8m deficit this year, and Taunton and Somerset forecasts a shortfall of £11.5m.
A TDA spokesman said: "Clearly it is disappointing that the transaction between Taunton and Somerset FT and Weston Area Health Trust was not viable.
"However it is important that we are able to conduct the thorough and extensive work required to assess the viability of transactions like these."
He added that the TDA was in discussions with NHS England, local commissioners and providers, and Weston to "develop recommendations for a new sustainable service model".
Weston referred HSJ to the TDA for comment.
Taunton and Somerset said: "Going through the acquisition process has yielded a great deal of learning useful to both Weston and [Taunton and Somerset] as hospital trusts, and the wider healthcare system in Somerset and north Somerset.
"That learning has provided a solid basis on which to build sustainable services for Weston, as it became clear during the acquisition process that a wider, whole system approach to support Weston was needed."
Updated 21/12/15 2.50pm to state that the CMA said no fee had been paid to it by Taunton and Somerset.