Proposals for new model of care in North Somerset
Include likely downgrade of Weston General Hospital's emergency and other services
CCG says trust should become "part of a larger organisation"
England's smallest acute trust has moved a step closer to downgrading its emergency services, with the publication of proposals for "a new community focused role… at the heart of the new model of care".
The plan for North Somerset – including Weston General Hospital in Weston-Super-Mare – was published this week by the region's clinical commissioning group. It also says North Somerset Clinical Commissioning Group believes the hospital and Weston Area Health Trust should become "part of a larger organisation".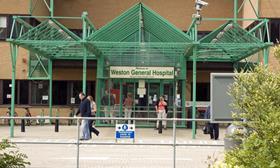 The CCG's vision, called Healthy Weston, says a new care model will involve "better integrating primary, community and secondary care services, improving pathways of care and developing an integrated and co-located multiagency 'care campus' model at the Weston General Hospital site".
It says the future for Weston General Hospital could include being a "recognised regional centre for innovative and effective support of frail and older adults, at scale provision of great routine elective care, and the strengthening of local cancer outpatient treatment options".
It continues: "This commissioning context does not set out in detail a final model, preferred option or target configuration state for WGH." It says the CCG will work with the trust and with University Hospitals Bristol and North Bristol trusts "to develop and appraise the possible options for service delivery".
"As a system, we must be honest with the public and ensure that we present options that are realistic, rather than implying that any combination of services is possible," it adds. It says North Somerset is spending more than other areas on acute care.
The document implies Weston's midwife led unit is unsustainable and says the CCG will review what should be done about the emergency department – which is currently closed overnight because of safety and staffing issues. The CCG will also review "whether emergency general surgery would be better provided at other larger acute hospitals in Bristol, North Somerset and South Gloucestershire", critical care and other services.
The document says "design" work will continue until next spring, potentially followed by public consultation.
Weston Area Health Trust is not a signatory but its chief executive James Rimmer said: "We welcome this new vision document… We have lived through years of uncertainty and this new vision is the next step in the journey to build a strong future as an acute hospital."
It is the smallest acute trust in terms of staff and income, with a turnover around £100m. At the end of 2016-17 it recorded a deficit of £7.3m. North Somerset CCG recorded a deficit of £25.3m.
It is part of the Bristol, North Somerset and South Gloucestershire sustainability and transformation partnership, which has some of the most severe performance problems, and was rated in the lowest category by NHS England in July. Julia Ross was made joint chief officer across its three CCGs in the spring, and Sir Ron Kerr was appointed STP independent chair in the summer.
Source
Healthy Weston document; trust statement
Source date
September 2017