Weston Area Health has second highest summary hospital level mortality indicator in England
"Further increase" expected in data to be published this month
Trust has launched two reviews to investigate the mortality concerns
Weston Area Health Trust has launched two external reviews into its mortality rates, after it emerged as an "outlier" on one of the key national mortality indicators.
The South West trust was the second worst performing provider in the country on the summary hospital level mortality indicator, which measures the number of patient deaths following hospitalisation compared to the number that would be expected based on average English figures.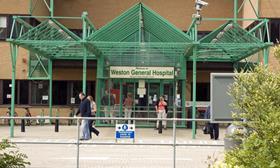 Weston, which is the smallest trust in the country, had a SHMI of 117 for the 12 months to December 2015, suggesting there was 17 per cent more deaths at the trust than would have been expected.
The only trust with a higher SHMI is North Tees and Hartlepool Foundation Trust.
According to its September board papers, Weston "anticipates a further increase in the SHMI" when the latest figures are published this month.
The trust has commissioned two external reviews into the mortality issue.
The first review took place in June and was on "coding and its contribution to the mortality data".
A second review on "the mortality review group and departmental mortality reviews" was carried out in August by Professor William Roche, previously NHS England's director for reducing premature death.
Both reports are "awaited", the board papers say.
As well as launching the reviews, Weston has taken action in the five diagnostic groups that appear to have the greatest number of excess deaths. These are:
Urinary tract infections – Weston says two reviews have "failed to identify any deaths due to a urinary tract infection" so this is "likely to be a coding and data issue". It will carry out a third review "to ensure there is no need for a change in clinical management".
Pneumonia and chronic obstructive pulmonary disease – The early identification of sepsis and deteriorating patients is "being reviewed" and respiratory consultants will be appointed this month to "provide clinical leadership".
Fractured neck of femur – An external royal college review of the pathway has been requested and is expected in November.
Intestinal obstruction – The trust says the adoption of National Emergency Laparotomy Audit scores and a new abdominal pathway has provided "apparent improvement in management".
Fluid and electrolyte disturbances (acute kidney injury) – The trust says it has adopted an "acute kidney injury protocol".
Nick Lyons, Weston's medical director, writes in the papers: "The key priority for the trust is to ensure that learning from the mortality reviews and the mortality data is embedded in trust-wide quality development and that there is clear monitoring of progress in implementation of learning at trust and directorate level."
Source
Source date
September 2016