Hospital chains have captured the attention of many as a new way of organising the health service. Jennifer Trueland explores the experiences of some trailblazer trusts and why finding the local and central needs must be balanced to succeed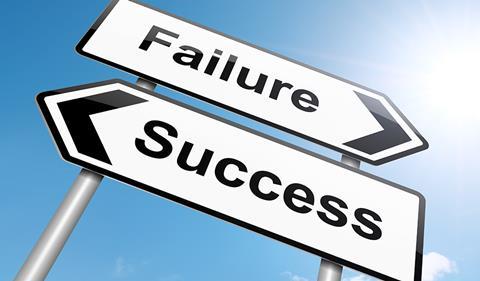 Failure or success road sign
It was almost six months ago that health secretary Jeremy Hunt announced an investigation into new organisational models for the health service.
The review, led by Salford Royal Foundation Trust chief executive Sir David Dalton, is examining a wide range of options. Arguably, however, it is the idea of hospital chains that has captured most of the attention.
'There are voices warning that hospital chains could be a "fashionable distraction"'
The concept is a seductive one: successful trusts use their expertise to support a poorly performing organisation with a view to driving up performance. There are examples from Europe and the US and, some would argue, in the UK.
But while the suggestion has been welcomed as a possible way forward to deal with the challenges facing the health service in England, some people are less convinced. For example, a recent report from the King's Fund and the Foundation Trust Network warns "while there are examples of successful chains, in general the evidence suggests the model also carries significant risks".
There are also voices warning that chains could be more of a "fashionable distraction".
In a recent post on HSJ's Hospital Transformation microsite, Derby Hospitals Foundation Trust chief executive Sue James wrote that while debates about hospital chains might help the partnership working that she advocates, "they could also be a trendy distraction, giving us the excuse to look as if we are busy solving a problem when all we are doing is playing with structures".
Local identity
International experience has taught us what does and does not work, says Candace Imison, deputy director of policy at the King's Fund and co-author of its report on future organisational models. She points out that one big challenge is balancing what is done centrally and locally, as well as balancing the importance of leadership capacity and cultural awareness.
She also warns against considering chains in isolation. "Hospital performance is increasingly interdependent with the quality of primary and community care, and the quality of relationships at a senior and service level across a health economy", she says.
'Services need to have a local focus: a manageable geography and an understanding of the culture and history'
"A chain does not solve any of these issues, and could make the relationships harder to build if an organisation's leaders are not locally based."
This is a point that resonates with Sir Leonard Fenwick, chief executive of Newcastle upon Tyne Hospitals Foundation Trust. "Big is not always beautiful," he warns.
"I believe services need to have a local focus: there needs to be a manageable geography; and you have to have an understanding of the culture and history of the place, of the public, of working with a range of other agencies."
His successful trust is involved in "buddying" two underperforming trusts, and he believes this is a good way forward. "It's going well," he says. "It's about working to support people and helping them to fly."
Hospital chains explained
What are hospital chains and what are they intended to be the solution for?
According to Ms Imison of the King's Fund, a chain has no one agreed definition. "In essence, it is a group (chain) of hospitals owned or governed by a single organisation," she says.
"This is distinct from a network or federation of hospitals that retain their organisational independence and governance, but collaborate with other hospitals in the same network or federation.
"In the context of the Dalton review, the chain is seen as a mechanism for the operating model of a successful hospital and the leadership that sits behind that to be applied to a poorly performing organisation, with a view to driving up performance."
Business strategy
Is there the appetite in the NHS to make chains work and does the current commissioning landscape – and, indeed, competition environment – encourage or hinder the move?
Moorfields Eye Hospital Foundation Trust in London runs more than 20 satellite services in hospitals, health centres, GP practices and even in a shopping centre, with more in the pipeline.
Although often described as a partnership or "joint venture", it is indeed a chain, says Rob Elek, director of strategy and business development at the trust.
"The terminology changes with the fashion," he says. "It doesn't really matter what you call it; what matters is getting it right for patients."
'It doesn't really matter what you call it; what matters is getting it right for patients'
Moorfields started to expand to other sites back in the 1990s as part of a policy to encourage specialist centres to provide outreach services closer to where people are. This has gathered more momentum in the last five years, chiming with central policy to do more outside hospitals.
"We had 12 or 13 satellites and that has gone up to more than 20; that's going to continue.
"We've got an organisational drive to do it because it's our strategy," Mr Elek says.
Running, and continuing to expand, the Moorfields network is a complex business, partly because it is a specialist service with patients all over the country and beyond. While most district general hospitals deal with one or a small handful of clinical commissioning groups, Moorfields contracts with "almost every CCG in England", he says.
He concedes that there are challenges in maintaining quality, consistency and appearance across the network, or chain, and strenuous efforts are made to ensure that, wherever a patient goes, it looks, feels and acts like a Moorfields service. "For example, we have well developed quality reporting and can drill down by site or by consultant," he says.
More on news and resources on hospital chains
Networks, not buildings
However, there is a tension in achieving appropriate economies of scale while still providing the service a locality needs or wants. That is partly why Moorfields is now focused on developing new, patient centred pathways that will ensure consistent commissioning wherever the service is delivered.
Getting the pathways right should also mean that it is possible to develop new relationships. These might include working with high street optometrists to manage patients with long term conditions, provided the right clinical governance is there.
'Getting the pathways right should also mean that it is possible to develop new relationships'
"People get too hung up on buildings," he says. "But they are just a box to provide services in. What we are trying to do is build the network around patients, balancing the needs of organisations with the needs of patients."
While he is enthusiastic about the prospect of further expanding the chain, Mr Elek would like to see greater clarity and consistency over the rules governing commissioning, procurement and contracting. "The landscape isn't particularly joined up," he says.
He is enthusiastic about the future, however, and acknowledges that the strength of the Moorfields brand is in the trust's favour.
"There's something special about Moorfields; there's a lot of value we can add to health systems," he says.
Key points
Hospital chains are one of a range of options being considered in Sir David's review of organisational models for the health service, due to report later this year.
International examples of hospital chains in the US and Europe provide lessons for how they might work in England.
A recent King's Fund and Foundation Trust Network report concluded that while organisational changes could drive improvements, there were risks from full scale organisational change.
The report points out that a trust's problems cannot be solved without taking a whole system solution and perspective.
There have been calls for clarity around commissioning, contracting and procurement to improve consistency across the country.
Enabling change
FTN head of policy Miriam Deakin points out that no one organisational model will be right for all. "We are conscious that the sector is facing considerable challenge, including rising demand, growing financial pressure and a need to continually improve quality of care," she says. "There are also a number of barriers and perceived barriers to closer collaboration and cooperation, including the regulatory framework.
"New organisational forms won't solve these issues in isolation, but alongside the strong leadership our members can offer - robust governance, local flexibilities and local accountability - this range of different organisations forms could be one enabler for the future."
'Our belief is that the FT model is sufficiently flexible to be applied in different ways such as this already'
She points out that there is no single foundation trust model and believes that is adaptable to virtually any set of circumstances. "Although the formation of a management chain is one of the more radical options under discussion, it may be suitable for some localities, and our belief is that the FT model is sufficiently flexible to be applied in different ways such as this already."
According to Ms Imison, there is a spectrum of views about hospital chains across the health service, with some leaders – such as Sir Michael Deegan, chief executive of Central Manchester University Hospitals Foundation Trust – giving a positive picture. Writing in the report, he pointed out that his trust's experience of incorporating local hospitals into a larger group and driving up quality suggests that chains can work.
Culture clash
Others – including Nick Marsden, chair of Salisbury Foundation Trust – have doubts. "Like many of the improvements to the structure of the NHS that are being proposed at the moment, management chains could be effective given the right circumstances," he wrote in the report.
"My nervousness is because they are always seen as a panacea to all problems without a sensible analysis of how and whether they can apply in sensible local circumstances."
'Management chains could be effective given the right circumstances'
Although Ms Imison acknowledges that there would be organisational challenges to setting up hospital chains, she warns that getting the culture right would be essential. "You can't just take a culture [from a successful trust] and put it into a failing organisation – you can't impose one culture on another.
"I'm sure the cultural dynamic on University Hospitals London [Foundation Trust] is subtly, but importantly, different to the culture in Salford Royal [Foundation Trust], but both are excellent trusts."
For the moment, at least, it is not clear what the long term response will be to Mr Hunt's announcement.