North West trusts stop procurement process due to concerns over preferred bidder's link to Grenfell Tower contractor
Preferred bidder Ryhurst is a subsidiary of Rydon Group, which has come under scrutiny for refurbishment work at Grenfell Tower
Trusts launched procurement process for a strategic estates partner in 2016
Two NHS trusts have abandoned a procurement process due to concerns about the preferred bidder's link to a contractor on Grenfell Tower, HSJ has learned.
Wirral University Teaching Hospital Foundation Trust and Countess of Chester Hospital FT launched a procurement process for a strategic estates partner in 2016, which resulted in estates firm Ryhurst being named as preferred bidder earlier this year.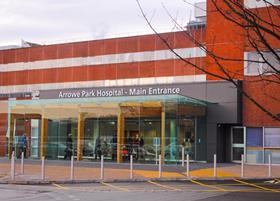 Ryhurst is a subsidiary of the Rydon Group, which came under scrutiny for its refurbishment work on Grenfell Tower following the fire that killed 71 people in June.
HSJ has learned the trusts have now cancelled the joint procurement process, after an update was posted on a closed procurement portal on 23 November.
The update said: "The trusts have decided to abandon the SEP procurement (without entering into a contract) due to uncertainty and risks arising out of the tragic events at Grenfell Tower.
"The public inquiry and other investigations into the events at Grenfell Tower are in the early stages and the impact on bidders involved in the procurement process and the industry is still emerging and uncertain.
"It is possible that the impact could be significant… Other factors and considerations were also taken into account in reaching the above decision."
A Wirral spokeswoman said: "The trusts have decided not to proceed with the SEP implementation having regard, amongst other things, to certain uncertainties facing the market. The trusts are grateful to all bidders for the time and effort associated with the procurement and for the excellence of their input."
Rydon Group has maintained that its work on Grenfell Tower in 2016 met all required building control, fire regulation and health and safety standards.
Stephen Collinson, managing director of Ryhurst, said: "We have been advised by the trusts that they did not feel the approach was one that met their needs during this period of uncertainty."
Asked if Ryhurst would challenge the trusts' decision, he said: "We are in discussions with the trusts at the moment."
The firm already works with several NHS trusts, including Lancashire Care FT, Isle of Wight Trust and Cheshire and Wirral Partnership FT.
In October, it was named as preferred bidder for a similar deal with Whittington Health Trust, which attracted criticism from local campaigners but appears to be progressing as planned.
A planned strategic estates deal between Ryhurst and Hinchingbrooke Health Care Trust was put under review in the summer, following a change of leadership at the trust and the merger with Peterborough and Stamford Hospitals. The trusts said the review was not linked to the Grenfell tragedy but was over concerns about achieving value for money.
The HSJ Strategic Estates Forum is taking place on 20 March at BMA House in London. This is a high-level strategic forum that brings together estates directors, STP estates leads and trust board leaders responsible for the estates function who are developing strategic plans for their organisations and local health economies. The focus of the forum is on issues such as the delivery vehicle for the Naylor Report, the creation of Project Phoenix, advice on establishing SEPs (Strategic Estates Partnerships) and assessing progress of STP estates plans. Sir Robert Naylor, National Adviser, NHS Property and Estates; David Williams, Director General of Finance, Department of Health and Simon Corben, Head of Profession, NHS Improvement are all confirmed as keynote speakers for the event. Register your interest for this free-to-attend event on our website: https://strategicestates.hsj.co.uk/register-your-interest-attending
Source
Information provided to HSJ