The number of women on NHS boards should be routinely counted and published, according to a report launched at an HSJ Women Leaders event last week.
The recommendation is one of several measures in the action plan to reduce gender inequality in the health service.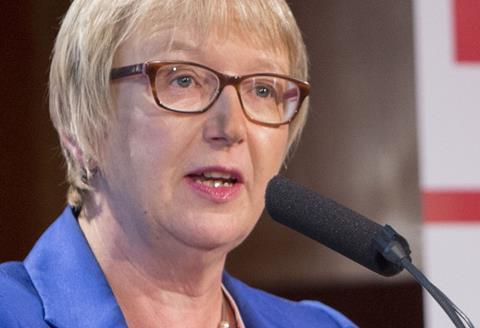 NHS Women in Leadership: Plan for Action, published by NHS Employers, calls for the collection of statistics "as a priority" to benchmark and track progress on achieving gender balanced boards.
Speaking at the launch in London, report author Penny Newman, medical director at Norfolk Community Health and Care Trust, said: "The evidence is telling us that [gender diversity] can improve the financial and organisational performance, decision making and innovation, increase productivity".
The call follows the success of the Women on Boards initiative in UK industry, which doubled the representation of women on FTSE 100 boards to 26 per cent in less than five years. The campaign has set a new target for 33 per cent by 2020.
Other suggestions in the report, which is backed by UN Women, are that the NHS identifies a national champion for gender equality and adopts a new focus on women getting into senior roles. Gender equality should also be written into the NHS England mandate, it says.
Ed Smith, chair of NHS Improvement, offered to help HSJ Women Leaders improve the gender equality in the NHS. "If you want me to help you, I will," he said.
Members of the network welcomed Mr Smith's support and agreed to set a target for gender representation on NHS boards at its next meeting in March.
Helen Birtwhistle, director of external affairs at NHS Employers, said: "NHS Employers is absolutely delighted to be supporting the HSJ Women Leaders network.
"Culture change is not gender specific, it includes men. To change NHS culture specifically we need to mobilise men and women to create change, recognising that more female leaders, more equality and diversity means better health and care services."
Royal College of Surgeons president Clare Marx said: "Women all too often know they can do [senior roles] but don't like to put themselves forward, and I think it's just having those honest conversations about how we can develop their careers that will really help people to develop themselves and realise that they have got that potential."
Deborah McKenzie, director of organisational and workforce development at Public Health England, added: "[Public Health England] now have a gender champion. To notice those micro-inequalities, to keep us honest and to constantly reflect on whether we doing what we set out to do which is to have a meritocracy… The NHS can't have a single champion we need a network of champions."
Debbie Frost, chair of Barnet CCG, said: "As a GP a lot career development within general practice is things everybody can do. But when you come on a CCG board you have to be elected and I feel that's very hard for a lot of women."
Aparna Mehrotra, senior adviser at UN Women, said: "The NHS is the fifth largest employer in the world and unless we make a shift in these very important public institutions, we will not make the changes that we need… this is just the beginning of the journey but I know we will attain what we need to."
NHS Improvement chair pledges support to 50/50 leadership target
1

2

Currently reading

HSJ Women Leaders: Tracking equality on boards 'a priority'

3

4