"Differing views" over which back office services in Hereford and Worcestershire footprint should be protected
Dermatology services in Worcestershire deemed financially unsustainable
Emergency department closures not ruled out
Potential for shared pathology and pharmacy services between acute trusts
The new health system for Hereford and Worcestershire has requested national support to help consolidate back office services across all of its NHS organisations and local councils.
In a progress report on the area's sustainability and transformation plan, obtained by HSJ, local leaders said there were "differing organisational views" as to which back office services should be protected.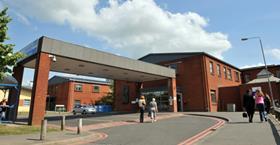 The update submitted to NHS Improvement also sets out plans for consolidating pathology and pharmacy services, as well as highlighting clinical services that are financially unsustainable.
Each of the 44 STP areas in England was asked to submit a list of potential consolidation opportunities for back office, pathology and clinical services by the end of July.
This was aimed at finding opportunities to reduce the overall provider deficit by more than £300m this year.
The Hereford and Worcestershire STP area is one of the most financially troubled in England. A spokesman said its plans were aimed at delivering significant savings, but these are not anticipated to be realised in 2016-17.
The STP area includes two acute trusts – Worcestershire Acute Hospitals Trust and Wye Valley Trust – while Worcestershire Health and Care Trust provides mental health and community services.
There are four clinical commissioning groups and two county councils in the patch.
The submission, written by Robert Mackie, deputy chief executive of WHCT, said current outsourcing contracts for back office services present are a barrier to consolidation in some areas.
But he said common areas for in-house staff include human resources, procurement, payroll, supplies, financial services, financial management, business intelligence, programme management and parts of IT.
The STP partners are also investigating the potential of organisations "buying into existing outsourcing contracts at a marginal rate", he said.
But the submission added: "Given the varied view from organisations it would be welcome to have support from NHS Improvement in participating in workshops the STP has planned to develop a detailed project plan to deliver consolidation of back office functions involving all NHS and local authority organisations."
In a section about financially unsustainable clinical services that could potentially be consolidated, Mr Mackie highlighted dermatology services in Worcestershire.
He also flagged concerns over "workforce availability" across the area for clinical haematology; colorectal surgery; and ear, nose and throat services. While the services are not unsustainable they may require a "different medium to long term solution", he said.
But the submission added that the area's "greatest challenge" is around high levels of agency spending within emergency services, which is being mitigated "as far as possible".
The proposals did not include plans to reduce the number of accident and emergency departments, however this was not ruled out when HSJ asked if it was being considered.
A spokesman for the STP said: "Given the size and scale of the challenges we have we need to consider a range of possible options… Any substantial or significant change to the way we provide services will be subject to full, open and transparent engagement and consultation before any decisions are made."
Wye Valley runs one emergency department and Worcestershire Acute Hospitals runs two.
There has long been speculation about the downgrade of services at the Alexandra Hospital in Redditch, but earlier this year the trust said there would be two emergency departments in Worcestershire "for many years to come".
The trust has also sought to retain the hospital despite attempts to have it transferred to University Birmingham Hospitals Foundation Trust.
The submission also said Worcestershire Acute Hospitals has "developed a specification for pathology services and is currently discussing this with Wye Valley to understand whether a joint business case for blood science integration is a viable option in the short to medium term".
Integration and a joint procurement for pharmacy services is also being explored. These were areas highlighted by Lord Carter's review of NHS efficiency earlier this year.
Hereford and Worcestershire is the only STP to so far provide its submission in response to a freedom of information request from HSJ.
Most others have refused to provide their submission on the basis that the final STP plans will be published in future. HSJ has appealed this, because the request specifically related to the July submissions, rather than the final STP plans.
Source
Submission to NHS Improvement obtained under FOI