CCG chair has "very significant concern" suspension of maternity services at Alexandra Hospital could become permanent
Jonathan Wells has written to arm's length bodies requesting "external support" to reverse closure
Removal of inpatient maternity services from Alexandra Hospital a key component of provider's reconfiguration plans
STRUCTURE: A clinical commissioning group chair has said there is "very significant concern" that a temporary closure of inpatient maternity services at Alexandra Hospital in Redditch will become permanent.
Jonathan Wells, chair of Redditch and Bromsgrove CCG, has written to NHS England and the NHS Trust Development Authority requesting "external support" to reverse Worcestershire Acute Hospitals Trust's transfer of the services to Worcestershire Royal Hospital.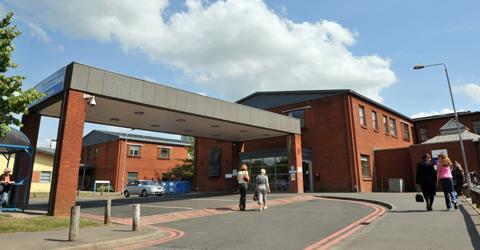 Inpatient maternity and neonatal services have been moved from Alexandra Hospital
On 30 October, Worcestershire Acute Hospitals Trust said it would move inpatient maternity and neonatal services from Alexandra Hospital.
The trust said it was unable to maintain safe staffing levels, especially at weekends, and was therefore temporarily transferring the services for at least three months.
In an interview with the BBC, Dr Wells said he learned of the emergency closure after returning to work from annual leave, and found out about it "after the press release went out".
On his blog last week, he said: "If a provider states it is unsafe to provide a service then we as commissioners have to accept this, and cannot prevent emergency closure.
"However, there is very significant concern that the 'temporary emergency service change' will not be reversed."
Centralising inpatient obstetrics services at Worcestershire Royal has been a key component of long running plans to reconfigure services in the county.
Dr Wells said that while his CCG had backed these proposals, "the commitment made… was subject to the expectation/completion of many steps".
"Given the importance of the Alexandra, serving a population of over 200,000 including significant areas of deprivation, it is only right that full public consultation takes place prior to permanent changes being made," he added.
Dr Wells said that "supportive services" that would normally be provided to "ameliorate a planned closure", such as a free standing midwife led unit, local seven day maternity assessment and enhanced transport links, were "not in place".
"For these reasons the NHS must make every effort to reinstate obstetric services at the Alexandra Hospital, and proper due process must occur, including a wider review of maternity capacity across the West Midlands."
He added that given the "ongoing fragility" of Worcestershire Acute's paediatric and maternity services, he had written to NHS England and the TDA requesting "external support… in order to enable a reversal of these closures".
The trust said it would only reopen services "when we have all of the senior qualified staff in place to consistently cover all of the rotas".
"We will be looking to review this position in February next year," it added.
Source
Source date
4 November 2015