Carnall Fararr report criticises "siege mentality" at Worcestershire Royal Hospital
On average around 700 patients a month wait in emergency department for more than 12 hours
Nearly a dozen patients in corridors and ambulance waiting area "at any point"
A damning review has warned one of the most distressed hospital trusts in the country "cannot enter another winter" without more beds, with hundreds of patients waiting more than 12 hours in its emergency department every month.
NHS England commissioned consultancy Carnall Farrar to review emergency care at Worcestershire Acute Hospitals Trust in January.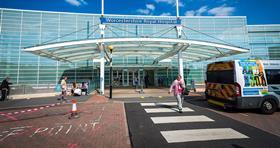 Patients attending the trust have experienced significant emergency care delays this winter, particularly at the trust's main Worcestershire Royal Hospital.
The review, published by the trust, showed around 700 patients a month were waiting more than 12 hours in Worcestershire Royal's emergency department before being admitted or discharged.
This is far more than the trust's reported 12 hour breaches, which only measures delays that occur after the decision to admit is made – 24 were reported in February.
The discrepancy reinforces growing concerns that the current 12 hour measure is masking far larger waits in emergency departments across the country.
NHS Digital will soon begin publishing a new monthly report on the number of patients spending more than 12 hours in the emergency department from arrival, rather than from the decision to admit.
The review's other findings included:
While trust leadership had improved, there was still a "siege mentality" at Worcestershire Royal's emergency department, with previous improvement plans failing to "stick".
There was disagreement between emergency clinical leads and senior managers about the root of persistent poor performance, with a "normalisation of crisis behaviour".
Most of the delays occur in getting a specialist assessment and between the decision to admit a patient and finding them a bed.
This was particularly pronounced for patients sent to the hospital's medical assessment unit. In December, patients in the unit waited on average for 14 hours before being admitted.
At any given time, there were five patients in the ambulance waiting area and six in the corridors. The report said "this practice has largely been normalised and accepted as standard practice".
Long delayed plans to reconfigure acute services need to speed up, or more emergency beds need to be found, because the "trust cannot enter another winter with current levels of capacity".
The trust was consistently making "coding errors", so reported data did not reflect performance. HSJ revealed in February 2017 that the trust had been "underreporting" emergency performance breaches by admitting people to "virtual" wards.
Ambulance handover delays are worsening amid rising attendance at Worcestershire Royal. Last week, it was reported that West Midlands Ambulance Service had sent a letter to trust chief executive Michelle McKay warning that action was needed on ambulance delays to avoid "a catastrophic situation".
The reviewers also sought comment from staff. One employee said ambulance waits were "unacceptable by anyone's standards" but treated as business as usual.
Another staff member said Worcestershire Royal's emergency department was treated as a "dumping ground for the hospital's system malfunctions".
A trust spokeswoman said the issues raised were not new and the difference between 12 hour waits in the review and reported breaches reflected "the difference between time of arrival and decision to admit time".
She said: "We have a major programme of work relating to flow across the trust and Carnall Farrar are providing valuable additional resource and expertise as part of a national arrangement put in place for trusts facing the greatest challenges on emergency access standards."
The Department of Health and Social Care approved a capital plan for the acute reconfiguration plan in December, she added.
She said: "The trust is working with NHS Improvement to progress the creation of additional capacity by next winter."
The trust has a long history of financial, performance and governance problems, which have persisted through various attempts to turnaround the organisation.
The trust has been in quality special measures since 2015 and has been rated inadequate for several years.
During the 2016-17 winter, several patients died waiting on trolleys. Last year, Ms McKay, pledged to end the treatment of patients in corridors.
While 12-hour breaches this winter have dropped, the trust's performance against the four hour target remained poor, particularly at Worcestershire Royal.
The review's recommendations included:
supporting clinical leadership, particularly in emergency care;
speeding up specialist assessment and time to admission;
improving GP streaming;
ensuring capital for reconfiguration plans are secure this year;
improving data quality; and
recruiting more specialists to support the emergency department.
Source
Carnall Farrar report; information provided to HSJ