Worcestershire Acute Hospitals Trust in special measures after CQC rates it "inadequate"
"Urgent" improvements needed in staffing levels, governance, investigation of clinical incidents and culture
Reliance on locum staff renders some services "fragile"
PERFORMANCE: Worcestershire Acute Hospitals Trust has been placed in special measures.
The West Midlands provider was rated "inadequate" by the Care Quality Commission following inspections in July.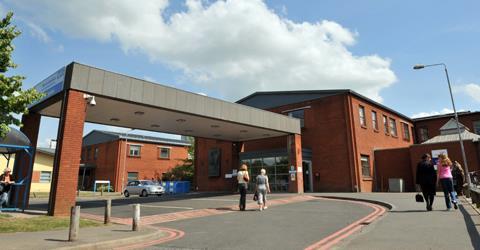 Inspectors said the trust needs to make "urgent" improvements in areas including staffing levels, governance, investigation of clinical incidents and culture.
While the trust was rated "good" for whether its services were caring, it was rated "inadequate" for safety and leadership.
The responsiveness and effectiveness of services "requires improvement".
The trust provides services across three main sites: Worcestershire Royal Hospital, the Alexandra Hospital in Redditch and the Kidderminster Hospital and Treatment Centre.
The CQC found surgical, children's and young people's, and maternity and gynaecology services were heavily reliant on temporary staff, rendering them "fragile".
Consultant cover in the trust's emergency department did not meet with Royal College of Emergency Medicine recommendations and inspectors found overcrowding in the department was a risk.
While improvements were found to have been made in the way that patients moved between hospital services, waiting times were still not meeting national targets, according to the CQC report.
The trust's previous chief executive, Penny Venables, resigned in July following a difficult few months for the provider, which saw the CQC take "urgent action" by imposing a condition on its registration and issuing three warning notices after an inspection of the emergency department.
In February the trust saw a mass resignation of accident and emergency consultants.
The trust has been developing controversial plans to reconfigure its services since 2012 because of concerns its current setup is not financially or clinically sustainable.
Despite an overall "inadequate" rating, inspectors found examples of "outstanding" practice across the trust, including feedback from patients that maternity and gynaecology staff were consistently compassionate and caring.
An "outstanding" patient observation system was also found in the critical care unit.
Chief inspector of hospitals Professor Sir Mike Richards said: "One of the reasons we rated the trust as 'inadequate' for being well led and safe was because when things went wrong they were not investigated promptly or thoroughly and there was a lack of learning from these incidents to prevent patient harm in the future. This was particularly the case in the maternity and gynaecology service.
"While the trust had a vision and a set of values these were not well embedded or understood by staff. The way some divisional teams were run was not effective."
Trust chief executive Chris Tidman said: "Everyone working at our hospitals will be very disappointed that overall we are rated as 'inadequate', especially following the efforts all our teams have made in the last four months since the inspection to improve our services.
"We recognise that we have achieved a great deal in a short space of time, including improving against key performance targets, but we are by no means complacent.
"We still have a great deal of work to do especially around processes and procedures. We remain focused on continuing to improve."
Source
CQC and trust statements
Source date
2 December 2015