Dame Julie Moore criticises Worcestershire Acute Hospital's plans for the Alexandra Hospital
UHB chief executive says her trust could have provided an "exciting and innovative" proposal for the hospital
UHB experiencing pressure from increase in patients from Worcester, Redditch and Bromsgrove
One of the country's most high profile trust chief executives has criticised the failure of a neighbouring trust to agree on hospital reconfiguration – and said her organisation could have offered an "exciting" proposal to run the site.
In a letter to a local councillor, University Birmingham Hospitals Foundation Trust chief Dame Julie Moore criticised the failure to finalise reconfiguration plans for the Alexandra Hospital – currently run by Worcestershire Acute Hospitals Trust. Dame Julie argued plans have not been agreed because they are "solely" focused on the financial viability of the trust.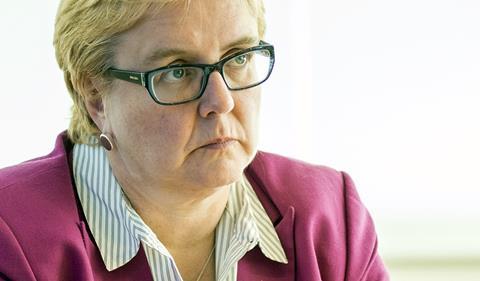 The letter, also signed by UHB chair Jacqui Smith, said the Birmingham trust could have put forward an "exciting and innovative" proposal for the Alexandra Hospital, had the option for it to be run by other providers not been rejected.
Worcestershire Acute Hospital has been developing controversial plans to reconfigure its services since 2012 because of concerns its current setup is not financially or clinically sustainable.
Initial plans looked at how many services should be centralised at Worcestershire Royal Hospital and how many should be retained at Alexandra Hospital, but a final model has still not been decided. Earlier this year Alexandra Hospital was stripped of its obstetrics service.
The trust was placed in special measures in December last year and Alexandra Hospital was rated inadequate.
In a letter, sent on 17 August to Redditch Borough councillor Bill Hartnett, Dame Julie said: "I am not convinced that any agreement on a new hospital model for Worcestershire will be reached as the underpinning rationale for the review has been to focus solely on a new model that delivers a financially viable WAHT in essentially its current form."
She also said she was "disappointed" that previous options for the Alexandra Hospital to be run by an alternative provider were rejected, because "UHB could have developed an exciting and innovative proposal for the Alexandra Hospital and its local population".
The letter said it was "very frustrating that after four years there still remains a lack of agreement on the reconfiguration of hospital services within Worcestershire". It also described "significant pressure" on UHB's clinical specialties following an increase in patients from Redditch and Bromsgrove being admitted to Queen Elizabeth Hospital.
A spokesman from campaign group Save the Alex said: "This letter supports what Save the Alex have been saying – the biggest failure of this review is that it has solely focused on how Worcester Acute Hospitals Trust [can] survive and not how best acute services can be maintained.
"The letter also supports what we have been saying about the population going to Birmingham for acute healthcare regardless of capacity concerns."
Dame Julie said UHB's emergency department has experienced an increase of 8-9 per cent in attendances from Worcester residents over the past three years and a rise of 9-12 per cent from Redditch and Bromsgrove.
UHB has also experienced growth in outpatient referrals from Redditch and Bromsgrove. The letter said Redditch and Bromsgrove Clinical Commissioning Group wrote to GPs last October asking them to stop referring patients to Worcestershire Acute for three months.
Dame Julie said: "I understand we have recently received a further request from the CCGs to accept additional GP referrals to support WAHT; however, due to the unplanned growth in referrals already experienced we are unable to agree to this."
Worcestershire Acute chief executive Chris Tidman said: "It is disappointing that this letter was sent and we were not informed of these concerns. We are open to meet with the chair and chief executive of UHB to understand their concerns about the potential impact on QEH and to give assurances that our plans seeks to minimise the impact on neighbouring providers."
He added: "It is my belief that north Worcestershire residents are better served by being a significant part of Worcestershire Acute Hospitals Trust than a small part of Birmingham, with very different demographic challenges and which consequently has different healthcare priorities.
"I share the justifiable concerns that the acute services review has been so protracted. It has been immensely frustrating for the trust and its clinicians too but we are now closing in on an outcome.
"We have a history of working in collaboration with other NHS providers including Birmingham Children's Hospital and in oncology we have a partnership with University Hospitals Coventry and Warwickshire. Where it can add value we welcome discussion with local healthcare providers."