Sir David Nicholson has been appointed interim chair of a troubled West Midlands hospital trust, after the previous chair left after less than two years.
NHS Improvement said the former NHS England chief executive will start the role at Worcestershire Acute Hospitals Trust on Monday.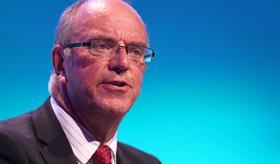 NHSI chief executive Ian Dalton acknowledged the trust still "still faces many challenges".
He added: "David brings huge expertise at both national and regional level. I know he is absolutely focused on improving patient care, and looking forward to getting underneath some of the difficult issues to see what positive changes can be brought about. Making sustainable quality improvements and getting the trust on to a stronger financial footing will be priorities, working closely with the chief executive and wider leadership team."
Trust chief executive Michelle McKay said Sir David's "knowledge and understanding of the challenges we face in this trust and across the wider health and care system will, I am sure, be enormously helpful to our efforts to secure safe, high quality hospital services for the people of Worcestershire, as well as the work we are doing to move to a position of sustainable financial balance".
The trust is rated inadequate, is in quality special measures and has history of governance issues. However, a Care Quality Commission report in January also highlighted leadership improvements since Ms McKay's arrival in 2017.
Financially, the trust has also struggled, with a forecast outturn for 2017-18 of a £56.3m deficit – £26.3m behind plan and equating to 14 per cent of turnover.
Under its cost improvement plan for 2018-19, the trust is required to save £23.9m, about 6 per cent of turnover.
While there were some signs of improvement in accident and emergency performance this winter, with fewer 12 hour breaches, the trust was still among the worst performers against the four hour target and for ambulance delays.
Sir David will replace interim chair Mark Yates, who took over briefly when the previous permanent chair, Caragh Merrick, left at the end of April. Ms Merrick had been in the role since September 2016.
Sir David will receive £40,000 a year in the role and his appointment is for one year.
Source
NHS Improvement and trust statements