Worcestershire Acute Hospitals Trust served with warning notice by CQC
Trust has until 10 March to address patient safety concerns
CQC raises concerns over trust's A&E waits and staffing
A troubled West Midlands acute trust has been told by the Care Quality Commission that it has two months to make significant safety improvements, HSJ has learned.
Worcestershire Acute Hospitals Trust has been issued with a warning notice from the CQC, which highlighted concerns over patient safety in relation to its urgent care services.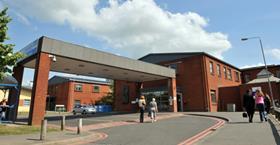 An email, seen by HSJ, sent today to the trust and its commissioners said the CQC asked the provider to make improvements in "identifying and mitigating risks to patients" and "providing assurance that actions are taken to improve safety and quality of patient care".
The warning notice, called a section 29A letter, comes after three deaths at the trust over the Christmas and New Year holiday period.
Two of these deaths occurred while patients endured long accident and emergency waits in hospital corridors. The trust is currently investigating the deaths but it cannot be confirmed that they were related to long waits.
The CQC has given the trust until 10 March to address concerns raised about all three of its sites: Alexandra Hospital; Kidderminster Hospital and treatment Centre; and Worcester Royal Hospital.
According to the email, the CQC's concerns focused on: patient safety in the urgent care pathway; the quality of governance systems; and compliance.
Examples included: A&E waits and staffing; fridge temperatures; inappropriate care settings for patients; mixed sex accommodation breaches; and lack of national early learning and paediatric warning scores.
If the trust does not comply with the warning notice the CQC could prosecute, impose restrictions on registration and in extreme circumstances cancel its registration.
In the email, trust chair Caragh Merrick said: "We will embark on a board led improvement programme that embeds getting good and getting better.
"We will deliver consistent high quality patient care, and patient safety. We know staff will be disappointed and we share the same focus as the CQC.
"We will refocus on the basics in the past we have lost sight of these and have not always responded in a way that delivers improvements and learning.
"From the ward to the board, we will strengthen processes to ensure patient safety, and refocus on the basic care standards."