STRUCTURE: A long running West Midlands reconfiguration has moved a step closer to being implemented after proposals were backed by the affected trust and its main commissioners.
The Future of Acute Hospital Services in Worcestershire programme began in 2012 and is now scheduled to be completed next winter.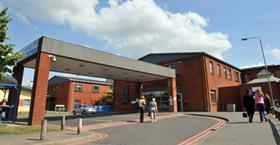 The programme's proposals have been approved in the past week by Worcestershire Acute Hospitals Trust and the county's three clinical commissioning groups: Redditch and Bromsgrove; South Worcestershire; and Wyre Forest.
Changes to the services provided at the trust's two main acute hospitals were set out last year by a clinical panel.
The proposed changes are:
Permanently remove consultant led births and inpatient paediatrics from the Alexandra Hospital, Redditch, and consolidate them at the Worcestershire Royal Hospital, Worcester. These services have already been temporarily removed because the trust was unable to maintain safe staffing levels.
Remove emergency paediatric services from the Alexandra Hospital. It is proposed that the site will retain a paediatric assessment unit.
Open a GP led urgent care centre at the Alexandra Hospital, alongside an adults only emergency department.
Centralise emergency surgery in Worcester, while the Alexandra Hospital focuses more on planned care.
Convert Alexandra Hospital's A&E into "a networked emergency centre" as recommended in a review of emergency services by NHS England medical director Sir Bruce Keogh. This would take 2-3 years.
Create "centres of excellence" for planned surgery on both sites, including urology at Alexandra Hospital.
There are no proposed changes to outpatient or diagnostic services.
Now they have been approved by local leaders, the proposals pass to the West Midlands Clinical Senate, which is expected will take several weeks to consider the new clinical model. Then the reconfiguration would have to be approved by NHS England and go out to public consultation before being implemented.
A document approved by local leaders points out that Worcestershire Acute Hospitals currently loses out on tariff income due to elective operations being cancelled due to high demand for emergency surgery.
The trust says the new clinical model could save up to £20m. Its forecast deficit for 2015-16 is over £60m.
The reconfiguration is understood to be central to the sustainability and transformation plan being developed across Worcestershire and Herefordshire. NHS England requires all health economies to submit their plans by June.
The programme has been controversial locally, with a vigorous campaign in Redditch arguing for the plans to be scrapped and for Alexandra Hospital to be taken over by University Hospitals Birmingham.
Source
Press release, board papers, and information supplied to HSJ