Nottingham University Hospitals says visa refusals are resulting in rota gaps and "challenging" for patient safety
Overseas doctors are a "critical" part of workforce
NHS Providers calls for "new urgency" from government to find a solution
A government visa cap is causing "significant issues" for trusts that are unable to fill rota gaps due to shortages of certain doctors in the UK.
Tier two visas are given to workers who have a skilled job offer and are not from the European Economic Area. Government statistics show 2,193 certificates of sponsorship were granted in April and 1,975 were made available for allocation in May.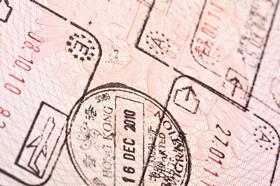 Nicky Hill, director of human resources at Nottingham University Hospitals Trust, told HSJ the cap has been an issue for the trust since December. She said 18 doctors have been appointed from outside the EU but had their certificates of sponsorship refused. In March, all the trust's applications were turned down.
Ms Hill said: "Seven of those [doctors] have been turned down more than once and two of those refused three times in a row. As a result, two doctors have decided they are not coming to the UK."
She said the trust has been left with "quite serious" gaps in the rota due to UK shortages in certain specialties, which she described as "challenging" for patient safety.
"We try and fill that gap with agency locums but we are under pressure to reduce our locum spend as well. Overseas doctors are a critical part of our workforce," she added
Ms Hill said she would like to see a "more sophisticated way" of trusts informing the government as to what a sensible cap would be.
She said: "We can predict over the next 12 months how many gaps we might look to fill with an overseas doctor. At the moment, the number of certificates available is way below that number."
Royal Wolverhampton Trust chief executive David Loughton said he has 24 doctors waiting for their visas to be approved. He said there was "absolute shock" when the trust got to December to find it would not be granted any more applications until April.
Mr Loughton said he has three consultant radiologists who he is struggling to get visas for, which will have an impact on the 62 day cancer treatment target.
"We will get by because you have to use agency doctors, but that is not what we want to do. It isn't just because of cost, also quality," Mr Loughton said.
Another chief executive, who wished to remain anonymous, stressed that the NHS needs the Home Office to support it by facilitating the allocation of visas in a timely way.
"Any failure to do so impacts on service delivery but also affects the public purse as expensive locum staff are used to fill these gaps," they said.
They added that they have applied for three sponsorship certificates in the last few weeks in "challenged" specialities but all three have been refused twice by the Home Office.
Paul Myatt, a policy adviser at NHS Providers, told HSJ that recruiting doctors internationally is one of the few options available to trusts in the short term.
He said: "We appreciate that discussions are taking place within government about this issue, but there needs to be a new sense of urgency to find a solution so trusts can recruit the staff they need to care for patients.
"It's deeply frustrating for trusts and doctors that when a job offer has been made, after considerable time and expense, trusts are repeatedly being declined the certificates of sponsorship needed for doctors to get work visas."
Alastair Henderson, chief executive of the Academy of Medical Royal Colleges, said he was "acutely aware" of the "growing difficulties" trusts are having in obtaining doctors' tier two visas.
Mr Henderson said although the academy supports the government's intention to move towards "self-sufficiency" and the increase in medical school places, he stressed that the recruitment problems need to be solved in the short and medium term too.
NHS England and the Department of Health and Social Care "are not picking up the concerns expressed across the health community", he added.
Danny Mortimer, chief executive of NHS Employers, said: "NHS organisations have been unable to obtain the required permits for months for essential medical colleagues, and we have called on the government to urgently address this serious problem."
"This prolonged inability to recruit non-EEA talent hits us particularly hard – and therefore hits patients hard too. We are also aware that our demand for visas within the present tier 2 system is adversely impacting on other parts of the economy also," Mr Mortimer told HSJ.
"We have proposed a way forward on this issue, but await a meaningful response from the government," he added.
'Absolute shock' at government refusing visas for hospital doctors
1

Currently reading

'Absolute shock' at government refusing visas for hospital doctors

2