Hospital Consultants and Specialists Association formally recognised by NHS Employers
Union has written to all hospital trusts seeking local representation for members
First time since 1948 that doctors have had an alternative union to the BMA
A trade union for hospital doctors has been granted national recognition by NHS Employers, meaning there is a second national body representing doctors for the first time since 1948.
The Hospital Consultants and Specialists Association was formally granted national collective bargaining rights on 22 December.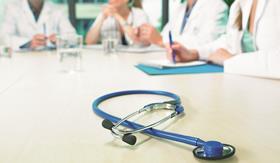 The union will now play a full role in negotiations on pay, terms and conditions with NHS Employers, alongside the British Medical Association, for all hospital based doctors including trainees.
The HCSA, which has more than 3,500 members, has written to all hospital trust chief executives seeking local recognition and representation.
Formal recognition of the HCSA follows the dispute between the government and the BMA last year, which led to the first full strikes by junior doctors in more than 40 years. The BMA was criticised by members over its handling of the dispute, which resulted in the government imposing a new contract on trainee doctors from October.
In the letter to trust chiefs, seen by HSJ, HCSA chief executive Eddie Saville said: "Our new recognition status means that for the first time in decades there is now an alternative independent, TUC affiliated trade union solely representing hospital doctors at the national negotiating table…
"We are an experienced trade union, many of our members already sit on and chair local negotiating committees in trusts up and down the country, and I know many others are keen to participate."
The decision by NHS Employers to recognise the union follows years of talks and a campaign for recognition by the HCSA, which formed in 1948.
The HCSA is run and led by its members but also has professional trade union officers to represent and negotiate on behalf of members.
HCSA president Professor Ross Welch said: "This might seem a small functional change but it is the first time since the NHS was created that a union has been granted full negotiating recognition for medical contracts other than the BMA.
"This is a game changing moment – an alternative professional trade union at the national negotiating table able to give a voice to the thousands of hospital doctors who for whatever reason feel disenfranchised."
The HCSA is TUC affiliated but not aligned to any political party.
A spokesman for NHS Employers said: "The HCSA had been seeking national recognition for a number of years, and already participates in a number of national fora including the NHS Social Partnership Forum (SPF). This was a logical development following their increasing role."