Sir Robert Francis says "standardisation" of safe staffing practice would be helpful as currently NHS boards cannot be clear if their staffing levels are "safe or not"
Mid Staffordshire scandal found there was "little consensus" on what safe staffing looks like and things "may not have changed enough"
Failure to implement medical examiner system was "approaching a scandal"
Sir Robert Francis QC has criticised NHS Improvement for not producing standardised guidance on safe staffing levels. 
Speaking at the Patient Safety Conference in Manchester on Tuesday, he said his 2013 report into the Mid Staffordshire scandal found "there was little consensus or guidance as to what constituted safe levels of staffing" and since then "things may not have changed enough".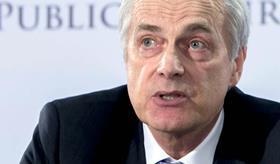 Referring to the recent "information resource" published by NHS Improvement on maternity service staffing levels, he said the recommendations "essentially followed" guidelines on midwifery staffing levels previously published by the National Institute for Health and Care Excellence.
However, Sir Robert said: "There is not a document which enables a non-executive board member to compare what is happening in their hospital with a standard, and there is no easily accessible reference to enable a board to decide whether their staffing levels are safe or not. They are still reliant on professional judgement and in effect trusting their medical director and nursing director."
He later added: "What does concern me is that… everyone around the country could have a completely different way of doing [safe staffing] and I do find that slightly difficult.
"What would be nice is if there were a standardisation of practice; find out what works and then do it."
In the Mid Staffs inquiry report, Sir Robert recommended NICE should be commissioned to research and publish evidence based staffing guidance. But the Department of Health controversially halted the work in 2015 while NICE was reviewing safe staffing levels for emergency departments.
He said he did not "quite understand why that happened" and his preference was that NICE be able continue with the work as it was the "most experienced" organisation at producing evidence based guidance.
However, he said evidence based research had continued but the "name has been chosen carefully – it is not 'guidance', it is an 'information resource' even though some of the language looks like guidance".
Sir Robert also said the failure to implement a medical examiner system, despite legislation being passed in 2009, was "approaching a scandal". He said: "Every time I ask, I'm told it is going to happen but then immediately some other obstacle is found. Interestingly the obstacle is never said to be the money but I do think that is the problem. Personally, I think it is approaching a scandal it is not in place. We know because of the pilots that have taken place it works."
A poll of delegates listening to Sir Robert's speech showed 84 per cent felt another Mid Staffs scandal was inevitable given the challenges facing the NHS.
However, Sir Robert said he was in the minority who believed it was not: "Everybody in this room has a role of ensuring it doesn't happen again… I think it is less likely and this is much less likely to be a secret kept behind closed doors than it used to be.
"Sooner or later scandals will emerge but whether they are on the scale of Mid Staffs, I would hope not. I always said the risk was there but to say it is inevitable is probably pushing it a little far."