Sir David Behan says fit and proper person regulations are not what Sir Robert Francis recommended
CQC believes rules do not allow it to strike off failing directors
Review welcomed and CQC will cooperate fully
Care Quality Commission chief Sir David Behan has said the government's review of the fit and proper person test offers the chance to settle "contested territory".
Health minister Steve Barclay announced the review of the regulations in response to Bill Kirkup's review of care and governance failings at Liverpool Community Health Trust.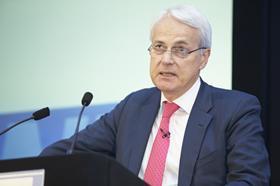 Sir David also said, at a CQC board meeting yesterday, the regulations fall short of what was recommended by Sir Robert Francis QC in his report into the Mid Staffordshire scandal. They cannot deliver the formal regulation, including the ability to "strike off" failing managers, which some people had expected, he added.
Sir Robert, a non-executive director at the CQC, said all his recommendations relating to a fit and proper person test were accepted by the government in 2013 in its response to his inquiry.
The CQC has faced criticism for its handling of the fit and proper person test and recently strengthened its guidance on what it would consider to be serious mismanagement and misconduct.
Sir David said the Francis report had recommended the creation of a code of ethics and a code of conduct for managers. Non-compliance with the code would mean directors and managers could be found not fit and proper, which would disqualify them from sitting on NHS boards.
Sir Robert also recommended the establishment of a register and regulatory body for managers.
Sir David said: "The fit and proper person regulations were the government's response to Sir Robert's report approved and passed by Parliament [and they] stopped short of the full recommendations."
He said this meant the regulator was not able to strike off directors but was required to check that boards had followed the process set down in the regulations. While the CQC has the power to impose conditions on a provider, including the removal of directors, the link with the regulations is not thought to be clear enough.
Sir David said: "It is true to say that part of the tension we've been operating in is this issue is [between] people who wanted to see a register where people could be held to account and that would include being struck off a register and what it is that we have been asked to deliver through the fit and proper person regulation.
"It has been contested territory since we started on this regulation and trying to settle this will be incredibly welcome for all of the staff in CQC who are trying to implement this but as an organisation we should be open to further reflection on the way we have operated this."
Sir Robert said he was not "proprietary" about his recommendations as "implementation is always much harder than making the recommendations". But he added: "Amongst the recommendations was the idea that if the fit and proper person test was to be used, its operation should be kept under review. It is the right time for such a review."