Employers not taking responsibility for staff safety, MP says
Holly Lynch says assault in the workplace has become normalised in emergency services
Envisions 'sentencing that is a deterrence'
The bill to protect healthcare and emergency services workers from assault will "send a message to employers" to take incidents more seriously, one of the MPs behind it has told HSJ.
Holly Lynch, Labour MP for Halifax, said: "We hope as well as changing the law, it will send out a tougher message to employers, the Crown Prosecution Service and the judiciary that we want them to be pursuing charges to enforce a zero tolerance message around assaults on healthcare workers and emergency workers.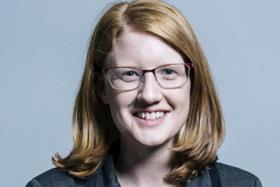 "I think time and time again employers – whether NHS or police – approach this as something that happens in this line of work and that is not what we want to see. There is nothing normal about being assaulted in the workplace."
The Assaults on Emergency Workers Bill is scheduled for a second reading in the House of Lords next month and will introduce a new offence of assaulting an emergency worker, new sentencing guidance and powers to take bodily samples from suspects.
Ms Lynch said since NHS Protect has had its funding "stripped" there has been "a challenge in recording the levels of assaults on NHS workers".
She said: "When we first met with the government to discuss sexual assault, the justice minister said we cannot see the pattern you are talking about reflected in convictions in court. I hope as a result of the bill that will now start to get to court and we will see appropriate prosecutions."
Ms Lynch said she would have liked to have "pushed" the sentencing in the bill to 24 months, but told HSJ the government was "uncomfortable" to extend it beyond 12 months from the existing six months.
"They felt that would be a too big a difference between a member of the public and an emergency service worker. However, I also have a vision of sentencing that is a deterrence," she said.
She said she would be making sure magistrates are aware the sentencing has increased and "used in full" for assaults on emergency workers.