Trusts in London to introduce regional ceiling on the amount they can pay after they breach national pay cap for locum doctors
Trusts will need to limit the amount they pay when breaking the agency cap for patient safety reasons
Will be implemented in London in October. Situation in other regions unclear.
Hospitals in London struggling to recruit medical locums to tackle staff shortages are to limit the amount they can spend even when safety is a factor from this weekend, HSJ can reveal.
Currently trusts can breach the national agency pay cap where patient safety is believed to be at risk under the "break glass clause".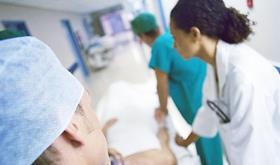 However, NHS Improvement said earlier this year that it could work with groups of trusts to create regional "local maximum escalation rates" for medical staff.
The creation of the maximum ceiling rate effectively limits the amount of money a trust can spend sourcing temporary staff for safety reasons.
Trusts in London have now agreed to introduce "agency ceiling rates for medical locums" from 2 October, board papers published by Barts Health Trust said.
A Barts spokeswoman said: "Despite intensive recruitment efforts we still face a shortage of permanent doctors in some specialities, including emergency care, so we are reliant on medical agencies to fill vacancies.
"Although this is now 23 per cent less than a year ago, we will continue to rely on this source for some time. The cost of agency doctors can be excessively high and this is a waste of precious NHS resources.
"We are working with other NHS organisations in London to drive down these expensive costs, while ensuring patient safety is not compromised and remaining within the rules set by NHSI."
NHSI has not stated to HSJ when asked whether trusts could breach the new ceiling if they were still unable to find staff.
Patient safety was a key reason for the creation of the break glass clause in the agency cap rules, but the new ceiling has been created due to concerns over the continuing high cost of medical locums.
An NHSI spokesman said: "The NHS has saved almost £1bn since we introduced our agency price cap system, and achieved greater transparency around the rates paid to these workers. Reduced spending on medical agency shifts has been the biggest portion of the service's total reduction.
"However, nationally there are still too many medical shifts been paid above their price cap. We're working with regions on tackling this, and the creation of local maximum escalation rates. This includes in London, where HR directors have already started working on a potential solution.
"During this process, we've been very clear that any proposals implemented must be in line with the existing agency rules and that we would not be introducing or supporting the introduction of anything that deviates from these."
Updated 2pm on 29 September as HSJ was informed that this policy was announced by NHS Improvement earlier in the year, although it is only now being implemented in London.
Capital's trusts to introduce 'maximum' caps on agency rates
1

Currently reading

Capital's trusts to introduce 'maximum' caps on agency rates

2