Carter to call for new "principal" measure of nursing deployment to be introduced from April
"Care hours per patient day" derived from nursing and healthcare assistant hours per inpatient
Review expected to call for "national people strategy" to tackle absenteeism, bullying and turnover
Will also back clampdown on use of executive headhunters
Lord Carter's review of NHS productivity is to recommend that a new metric – "care hours per patient day" – should become the principal measure of hospitals' use of nurses and healthcare assistants from April, HSJ has learned.
Introducing the new metric is part of a plan – to be set out in Lord Carter's final report, due shortly – for how he believes the NHS could save £2bn of the £5bn savings identified by the review, through better management of its workforce.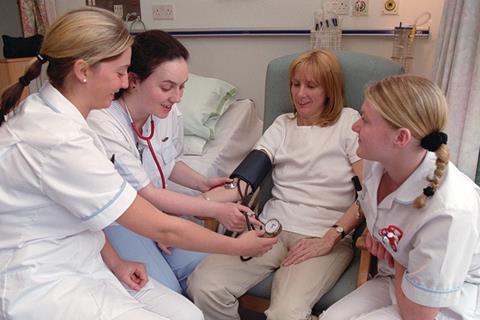 The report is also expected to call for NHS Improvement to launch a "national people strategy" to tackle high levels of bullying, absenteeism and staff turnover, which Lord Carter believes will hamper the service's efforts to improve productivity.
Among other details, this strategy is to include:
an expectation that every trust chief executive leads a campaign against bulling and harassment;
a requirement for trust and national level succession planning for executives – and the use of NHS Executive Search to provide candidate shortlists before trusts are allowed to consider headhunters – to cut down on the health service's multimillion pound bill for executive recruitment agencies; and
improved data collection for, and management of, sickness absence.
The report is expected to say that one of the obstacles to eliminating unwarranted variation in nursing and care staff use has been the absence of a common means of recording and reporting deployment. It argues that conventional measures – such as whole-time equivalents or staff-to-patient ratios – may not reflect varying staff allocation across the day.
On these grounds it will propose the use of care hours per patient day, calculated by adding the hours of registered nurses to hours of healthcare support workers and dividing the total by every 24 hours of inpatient admissions. It will suggest that this metric can be broken down initially by registered nurses and support workers, and, over time, by pay bands within those groups.
It is expected to recommend that NHS Improvement begin collecting care hours per patient day on a monthly basis from April 2016, and it becomes the principal measure of nursing and healthcare assistant deployment. Similar approaches would be extended to other professional groups the following year.
The recommendation is likely to generate concern among some nursing directors, unless there is explicit acknowledgement that safe staffing work done by the National Institute for Health and Care Excellence, and to be taken on by NHS Improvement, is the primary work trusts should focus on.
One nursing director with knowledge of the proposals told HSJ: "The worry for me, and I know other directors of nursing share this view, is that this appears to have no reference at all to the safe staffing work that is going on."
The report is expected to recommend that NHS Improvement works with the Royal College of Nursing and others to define staffing ranges for different types of wards as a guide for trusts.
The Carter review is understood to have identified significant variation across hospitals in staff turnover, sickness and reported bullying. It is expected to estimate that the real rate of sickness absence in the NHS is close to 6 per cent, higher than both the private and public sector averages.
It is also expected to highlight the high turnover and costs of recruiting executives, with an estimated headhunter bill for chief executives alone of £2.5m a year.
HSJ understands the Carter report is still in draft form and has yet to be finalised.
NHS has 'systemically failed' to use buying power, says Carter
1

2

3

4

5

Currently reading

Carter to back new measure of nurse productivity

6

7