NHS Improvement identified a similar decline in nurse staffing found by HSJ investigation
Ruth May says more needs to be done to increase nurse numbers
Practice of one upping "poses a significant risk" to patients, she says
NHS Improvement was aware of a significant decline in nurse staffing performance across English hospitals and its nursing director has said she will do more to try and increase nurse numbers in the NHS.
Ruth May, director of nursing at NHS Improvement, also said the regulator could not rule out agency spending caps as a potential cause of the problem, reported by HSJ earlier this month.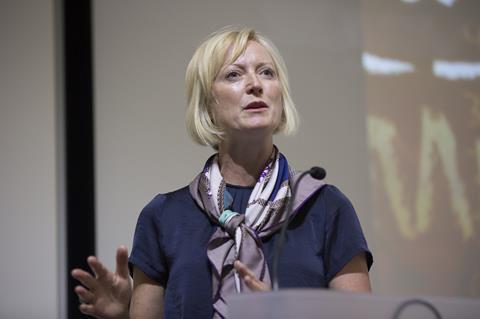 Ninety-six per cent of hospitals missed their target for planned nurse staffing levels in October 2016, the worst performance since 2014-15.
Ms May said: "I personally need to step up my efforts to think about what we can do nationally to increase the amount of nurses that we have got."
HSJ's research into nurse staffing levels found the deterioration in performance accelerated after April 2016 when NHS Improvement capped agency spending by trusts and made it a requirement for agency staff to come from approved suppliers.
Mark Radford, the regulator's director of nursing improvement, said analysis carried out by the regulator had found a similar decline as HSJ's work. He said: "I wouldn't disagree with the overall trend that was highlighted. You do see a decline and the overall trend, particularly in fill rates, is down but there are some anomalies in that. I do think the system is responding to an increase in demand and extra capacity requirements but there is a shortfall."
He added that there was "noise" in the data and he questioned whether the agency cap was causing the problems because he said decline in performance was evident before they came in.
Ms May said she could not rule out the agency cap as a factor but said in many cases she believed trusts were responding to increased demand and pressures, which meant planned levels of nurses were being increased – making them harder to achieve because of the national nurse shortage.
On the agency cap, she said: "I don't think we can confirm one way or the other. All I can keep reiterating to directors of nursing is that the break glass clause is there for a reason, which is patient safety. We obviously need to manage our finances but if we need to break the glass to get the agency nurse in then they should absolutely get the agency nurse."
Several nurses told HSJ about a practice known as "one upping" where an extra bed is added to a bay. Ms May said: "I don't think it's acceptable and it should never be a routine way of working… as this poses a significant risk."
She said it might be appropriate as a temporary measure during "exceptional demand" but protocols made clear it "should only be considered in extremis".
NHS Improvement is reviewing incidents linked to staffing shortages monthly, and where necessary challenging trusts to ensure they have proper systems to respond.
It will also be producing a new paper on improving staff retention, which will highlight best practice in rostering; flexible work patterns; support for people coming back from long term sickness; and health and wellbeing support.
Ms May said: "We need to train more nurses and we will have to wait and see how we get on with the new regime for that, but even if we train more nurses they are going to take three years to come off the treadmill so we have to do something in between that and retaining and attracting back the workforce is something we need to step up our action on."
She said staffing level performance against planned levels was "an important input measure and it's vital for people to look at how many staff people have got on each shift", but added this needed to be looked at alongside data on staff and patient outcomes so trusts could "triangulate" the data.
"Nursing numbers are under pressure and therefore we really need to step up our work to recruit more, retain more, and we are absolutely going to have to push a multi-professional workforce," she said.
Commenting on the stories of understaffing nurses told HSJ, Ms May said: "It was heart-breaking. Even if it happens once or twice it is too many."
Mr Radford added: "I hate hearing colleague stories like that and some of those levels of nurses to patients I just don't find acceptable."
New taskforce to 'challenge' weak STP proposals
1

2

Currently reading

Chief nurse says she will 'step up efforts' to increase staffing

3