Numbers of nurses in community and mental health services rise for first time year on year
Number of adult nurses hit record level in October 2018
Growth in support staff continues to outstrip nurses
The numbers of registered nurses working in NHS community and mental health services have risen year on year for the first time after almost a decade of decline.
The latest workforce data from NHS Digital showed the number of full-time equivalent nurses working in community services reached a total of 35,817 in October 2018, up by 385 compared to the same month in 2017.
The number of mental health nurses reached a total of 36,465, up by 473 year on year.
Meanwhile, the so-called 'Francis effect' on acute sector recruitment showed no signs of stopping, with the total number of full-time equivalent registered nurses in the NHS hitting 182,789 in October last year, up by more than 1,900 on the year before.
However, the number of learning disability nurses has continued to decline, reaching just 3,278 in October 2018, down from a peak in October 2009 of more than 5,540.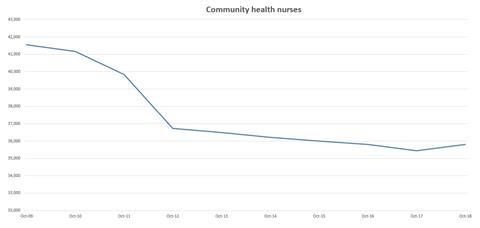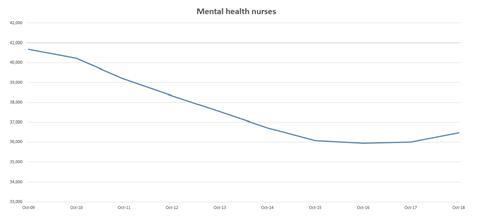 The growth in community and mental health nurses marked the first year on year increase since 2009, when both sectors began to see sustained falls in employed nurses. It is not clear to what extent the decline is linked to the transfer of some NHS services to independent providers.
While nursing is enjoying record levels of employment, it is still outstripped by nursing support staff numbers, which grew by more than 3,000 year on year in October.
NHS Improvement has estimated there are approximately 40,000 registered nurse vacancies in the NHS, on top of the numbers of full-time employed staff – reflecting the growth in nursing demand since 2012, after the publication of the Francis report into the care scandal at the Mid Staffordshire Foundation Trust.
October is a useful date for year on year comparison as it captures the numbers of newly-qualified nurses joining the NHS after graduation and is less affected by a seasonal trend of nurses leaving employment during the summer months.
While the number of registered nursing staff in the NHS is at record levels, the increases have struggled to keep up with demand pressures on the service. Since 2008, emergency admissions to hospital have increased 22 per cent, with elective admissions showing similar increases since 2009-10. The NHS long-term plan did not address the workforce crisis, with a new workforce strategy delayed until after the comprehensive spending review.
Jim Buchan from Queen Margaret University in Edinburgh told HSJ the use of agency and bank nurses needed to be factored in as part of the "supply side trend in recent years", and he added the time lag between students starting their training and entering the register should not be ignored.
Professor Buchan said: "Given little discernible increase in intake in the last couple of years, that will play out into no numerical increase in entries in the next few years, unless attrition improves."
Chris Hopson, chief executive of NHS Providers, has also warned the NHS long-term plan cannot be delivered while the NHS has over 100,000 vacancies. He said: "We need urgent action on this and it is a major concern that we will have to wait until later in the year for a comprehensive workforce plan."
Other workforce changes from the NHS Digital Data include:
Health visitor numbers have fallen by more than 500 in the year to October 2018 although this could reflect the transfer of commissioning of health visitor services to local authorities.
The number of allied health professionals in the NHS increased by 1,673 to a total of 67,274.
The numbers of senior managers increased by 197 in the year to October 2018 while managers increased by 1,466.
The number of midwives marginally increased by 85, to a total of 21,975.
The total number of doctors in the NHS increased by 2,911 year on year, a 2.5 per cent increase.
Source