Trust leaders have been told to close services that cannot be run without paying locum doctors a rate worth more than £150,000 a year.
NHS England and NHS Improvement believe that little progress has been made on reducing the amount paid to locum doctors in the past year, while big savings have been made in agency nursing and other staff groups.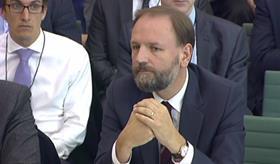 In his speech to the annual NHS Providers conference in Birmingham today NHS England chief executive Simon Stevens said there were still "too many places where we have services propped up by completely unaffordable consultant locuming."
"If the question is… 'If we can't do everything and what is it we stop?', one of the things we should be taking a very hard look at is any service where we are spending more than £150,000 on medical locums for more than six months, then we [trusts] need to be coming to NHS Improvement and NHS England and saying that, if needs be we take difficult decisions to stop it.
"We cannot allow ourselves to continue to be ripped off through these kinds of processes.
"Fantastic progress has been made on nurses and other disciplines but the clue is in the word 'unsustainable' – because we cannot continue in a safe fashion with the money available on the current operating model."
Yesterday NHS Improvement chief executive Jim Mackey said "we've not yet laid a glove on medical locums" in relation to spending.
When asked how many accident and emergency departments, many of which rely heavily on agency staff, would therefore need to be closed, Mr Stevens said: "Well those consultants currently working to support those A&Es and being paid £150k or £200k, they are still turning up to work, the question is the rate at which they will be compensated."
Chorley A&E has been closed since April, when bosses said several of the locum doctors who had filled their staffing rota had left for other trusts due to the new pay caps being enforced by Lancashire Teaching Hospitals Foundation Trust.
Earlier this year regulators wrote to NHS trusts and asked them to draw up lists of clinical services which are heavily reliant on locum staff and financially unsustainable.
At the same conference this morning, NHS efficiency champion Lord Carter said politicians and the NHS need to "get on the front foot" in rationalising services.
The Labour peer, when asked whether politicians would offer support for controversial changes, said: "For goodness sake can we not get on the front foot and do what the French have done.
"The French have made massive rationalisations of their hospitals…(In England) people have shut A&E departments, in High Wycombe and various places, people have done it. I think we've got a role to play as the leadership to make the case ahead of time and explain to people clinically the risks and economically the risks.
"It's going to happen, we just have to actually show some leadership, because politically the money is not going to get any easier."
'Cut to the chase' on contracting
Simon Stevens and Jim Mackey have told trusts they should stop "wasting time" on contract negotiations and agree deals with their commissioners as soon as possible.
Mr Stevens said: "We are completely resolved that we want to try and take the hassle, the faff, the timewasting out of this process and so we want trusts and clinical commissioning groups in each STP area to in effect work back from the money that is going to be available next year and the year after, and divvy it up rather than CCGs making unrealistic lowball offers, matched by hopes on the part of trusts that they will get compound growth tariffs for activity increase with a massive gulf between the two starting positions and people wasting months trying to come to some middle ground.
"We are determined to short circuit that and I would urge anyone involved in that to cut to the chase."
Yesterday Mr Mackey said: "We're still in that process of a ridiculous offer and a ridiculous counter offer and we need to not waste too much time on this.
"Let's get it done before Christmas. Simon and I have said we'll arbitrate as a last resort. Seriously, you don't want us to arbitrate. Go and fix it… we'll be demonstrating our erratic behaviour over the coming weeks to confirm the last thing you want is us to arbitrate the week before Christmas."