Data shows almost half of trusts have reduced likelihood of BME staff being disciplined compared to white colleagues
Likelihood has increased in 42 per cent of trusts
Poor representation at board level with 172 trusts having no BME board members
Trust chief says improving race equality can help tackle problems facing providers
The NHS has seen a slight improvement in how black and minority ethnic staff are treated compared to white colleagues since 2016 but the latest data stills shows there is "much, much more work to do".
New workforce race equality standard data from NHS England showed the chance of a BME person entering a formal disciplinary process compared to a white person has reduced at 48 per cent of trusts since 2015-16.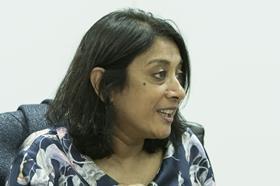 However, in 42 per cent of trusts, BME staff were more likely to be disciplined in 2016-17 compared to white staff than in the previous year. Three per cent of trusts saw no change and 7 per cent entered incomplete data in one or more of the years analysed.
Roger Kline, author of the landmark report into race discrimination Snowy White Peaks, told HSJ: "We are in the foothills of the snowy white peaks. There are trusts that are doing some good stuff and lots of others that still have to engage fully with it. The foundations have been laid but there is much, much more work to do."
He added that trusts that cannot improve race equality will see an impact on "turnover, absenteeism and staff engagement scores", which can all affect patient care.
Mr Kline, who was NHS England director for WRES and engagement until September, said: "Discipline data did move significantly but that is not a uniform move across the NHS. What you have is some trusts making very significant improvement, quite a few trusts making a bit of improvement and the others largely flatlining, which is why there is an improvement but let's not get too carried away."
NHS England's report into the data said that although people from BME backgrounds are now less likely to enter disciplinary action than in 2016, the same group is 1.4 times more likely to go through this formal process than other members of staff. The report also found "white shortlisted job applicants are 1.6 times more likely to be appointed from shortlisting than BME shortlisted applicants".
Board level representation across all trusts is also poor with two thirds of trusts having 10 per cent or less of its voting board members from non-white backgrounds; 172 trusts have no BME people on their board.
Mr Kline said the "most important reason" BME staff are disproportionally disciplined is that "managers won't have the informal conversations with BME staff that they would with white staff", which leads to an escalation of concerns.
Navina Evans, chief executive of East London Foundation Trust, whose board has the joint highest level of member diversity in the NHS, said: "At the moment [racial equality] feels a bit of a moral issue – of course, it is moral and ethical – but also I think it's the solution of many of our problems: workforce, efficiency, productivity and value for money.
"We have a crisis in leadership and workforce and you just have to look at all of your resources wherever you can get them. If you are not looking at how you can get the best out of black staff, Asian staff, you end up paying more money for agency staff when you have got them sitting there under your nose and you are not looking in the right place."
Mr Kline added: "Boards have to decide this has got to change and then have to give the trust licence to make changes. You have to lead from the top. Enough trusts have shown what can be done but there is no excuse for others not to do the same."
The data, published last month, also showed some positive changes.
The report said: "An increase in numbers of BME nurses and midwives at bands 6-9 is observed once again in 2017; this pattern has persisted since 2014."
It also found: "There is a steady increase in the number of NHS trusts that have more than one BME board member. There are now a total of 25 NHS trusts with three or more BME members of the board; an increase of nine trusts since 2016."
Revealed: Trusts performing worst against race equality target
1

2

Currently reading

Data reveals lack of progress in reducing race discrimination in NHS