Health minister reveals DH will recruit 340 staff over the next year
It is the second time in as many months the DH has revised recruitment plans
In January, the department said 538 civil servants would lose their jobs
The Department of Health plans to recruit hundreds more civil servants in the next year while hundreds of others are made redundant, HSJ has learned.
Ministers have revised up the number of civil servants they expect the department to recruit during the next 12 months for the second time in as many months.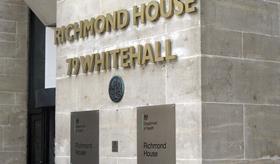 In January, the DH confirmed 538 civil servants were due to take voluntary redundancy in the coming months as part of the department's plans to cut its running costs by 30 per cent by 2020.
A few weeks later it confirmed it would actually recruit 200 new civil servants, following a Commons health select committee hearing with health secretary Jeremy Hunt and Paul Macnaught, the DH's director of EU and international issues.
It has now emerged that Richmond House is planning to recruit 340 new staff over the next 12 months – 140 more than initially announced. Details emerged in a written answer by health minister David Mowat to Labour MP Justin Madders.
HSJ understands directorates within the DH were asked to outline their needs for staff, including the requirements for the department to respond to Brexit related issues affecting the health service.
The DH declined to comment on the recruitment drive or explain whether the change in plans to cut staff would affect its ability to meet its savings target by 2020.
In the 2015 autumn statement, George Osborne redefined the government's ringfence around health spending to exclude the DH and arm's length bodies, which meant substantial cuts would be required.
A spokeswoman for the DH previously said additional savings via non-staff costs would need to be found in order to meet the 30 per cent costs reduction by the end of the current parliament.
The department is expected to relocate from Whitehall to 39 Victoria Street, and move staff from three separate London offices to one site.