More than 500 civil servants working for the Department of Health are to leave their jobs under a major Whitehall cost cutting drive, HSJ has learned.
In total 538 employees at the DH are to take voluntary redundancy during the next few months under measures announced following the spending review in 2015.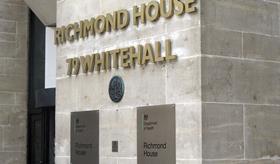 To help boost additional funding to NHS England's budget the Treasury redrew the ringfence for health spending, excluding the DH and other arm's length bodies.
The DH needs to reduce its running costs by 30 per cent up to 2020 and is planning to centralise staff from its three existing offices to new premisies at 39 Victoria Street in central London.
It is understood the number of non-senior DH staff is to fall from 1,800 to 1,300 by April. The number of DH deputy directors will also be reduced from 116 to 80.
Last year the DH revealed a slimmed down structure for directors and faced criticism for cutting the in-house nursing advisory team led by David Foster, who retired in September.
The move to Victoria Street is expected to happen later this year and will be funded from the existing department budget.
The DH told HSJ it ran a voluntary exit exercise and as a result 538 people will leave under the scheme.
Leaving dates will vary but the majority are expected to leave before April
A DH spokeswoman said: "Along with all other government departments, we have made changes to make sure taxpayer's money is spent as responsibly as possible."