The Department of Health delivers policy effectively, according to just under two thirds of its own staff. However, fewer than half have confidence in its senior civil servants.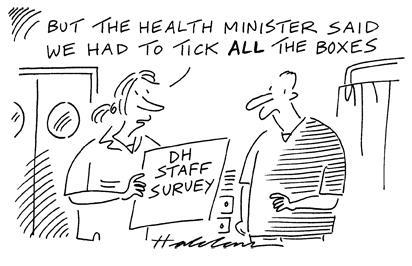 Haldane july 14
Out of 1,520 people responding to this year's annual DH staff survey, 63 per cent agreed with the statement: "In general, DH delivers policy effectively". This compares with 8 per cent who disagreed and 29 per cent who were neutral.
But fewer than half of those surveyed (42 per cent), felt senior civil servants "live out DH's values and behaviours". Forty-three per cent had confidence in DH senior civil servants, but just over a quarter did not.
Most of the DH survey findings have improved since last year.
The Cabinet Office capability review of the DH, due out yesterday, was expected to report that it had improved its policy making capability, was more effective at linking health and social care policy, and had established a clearer vision for the staff which was boosting morale.
But improvement was not as strong as the DH itself believed, assessors felt.
They were also expected to question the sustainability of the structure of three permanent secretary ranked posts - the DH permanent secretary, chief medical officer and NHS chief executive - which external stakeholders saw as confusing.
The vast majority of staff surveyed - 91 per cent - said their team was "committed to doing quality work". More than half said they felt valued as an employee of the DH and 58 per cent said they would recommend it as a place to work.
However only 41 per cent agreed that the senior civil servant in their department dealt effectively with bullying and harassment. Twenty-one per cent disagreed and 39 per cent were neutral.
Thirty-seven per cent agreed that officials at director general level and above inspired staff in a united sense of purpose, compared with 29 per cent who disagreed.
Line managers were highly rated, with two thirds of respondents saying "I can look to my line manager as a good role model".
Nearly half of staff surveyed felt able to speak up and challenge the way things were done, while a quarter said they did not.