Nursing policy unit to be scrapped as part of DH cost cutting drive
Decision criticised by unions as an "appalling message" to professions
Sir Robert Francis QC raised fears over a weak nursing voice in 2013
The Department of Health is planning to axe its nursing, midwifery and allied health professions policy unit, HSJ has learned.
The proposal will mean the departure of seven staff including director David Foster. HSJ understands Mr Foster will retire in September.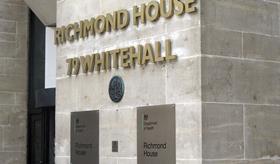 Also affected will be the DH's adviser on mental health, Ben Thomas; nursing and midwifery adviser Jean Christensen; and AHPs adviser Alison Raw. In addition three support staff have also been formally told their roles are at risk of redundancy.
The plan is a consequence of the "DH 2020" cost cutting drive, under which the department lose around 700 posts in a bid to reduce its running costs by 30 per cent over the next five years.
The loss of the nursing policy unit comes three years after Sir Robert Francis QC criticised the lack of a strong nursing voice in the NHS and called for the profession's voice to be strengthened.
Ministers will continue to receive nursing advice from the chief nursing officer Jane Cummings who is based within NHS England.
One DH insider said the proposals were being made because "the new department does not see the need for embedded professional advice except for that from the chief medical officer and chief social worker".
The source added: "There was no consultation with staff or unions on the 2020 changes to start with… staff were told that was what was going to happen.
"If you have internal professional staff helping policy teams with advice then you get adherence to the civil service code which is about impartiality, objectivity, honesty and integrity.
"If you rely on people outside the department you might get their partial, biased opinions with no evidence and balance. Ministers will ask for the answers they want rather than the breadth of balance they should have.
"Where are the checks and balances?"
The proposals have sparked criticism from unions, with Unison's head of nursing Gail Adams arguing on Twitter that ministers needed "sound objective impartial advice" and that scrapping the unit was "plain stupid".
She said it was "an appalling message to the [nursing] profession".
Karen Middleton, chief executive of the Chartered Society of Physiotherapy, said: "The importance of clinical leadership in delivering patient safety was a key focus of the Francis report so it is essential that allied health professionals are represented at the top table.
"I strongly urge the DH to reconsider this move."
A DH spokeswoman refused to answer specific questions about the proposals but told HSJ: "We are absolutely committed to ensuring the voice of nursing is heard loud and clear in all of our policy making.
"Ministers meet the chief nursing officer and other nursing experts on a regular basis. All of the changes we are making through our DH 2020 programme are being done transparently and following extensive engagement with our staff," she said.
The DH 2020 programme followed the decision by chancellor George Osborne to redraw the NHS ringfence to exclude the DH and other arm's length bodies from the protected NHS budget.
The DH is planning to relocate staff from three offices to a new address at 39 Victoria Street as well as reducing its headcount from 2,000 to less than 1,400 by 2017.