Many more disabled NHS staff report worse experience at work, including more bullying, harassment and abuse
Most indicators improved in 2019 compared to the previous year, but large gaps remain
First time NHS has published figures on indicators
Disabled NHS staff are more likely to suffer bullying, harassment and abuse and feel they are not treated fairly — although their experience is improving — new data has revealed.
Results from NHS England's "workforce disability equality standard" metrics showed large gaps between the experience of disabled and non-disabled staff on nearly all measures.
The findings — based on the 2019 NHS staff survey results, which were published this week — showed:
The largest gap is on whether staff members feel their organisations value their work at 11.3 percentage points — 39 per cent for disabled staff and 50.3 per cent for non-disabled;
30.7 per cent of disabled staff say they feel pressured to come to work, compared with 21.1 per cent of non-disabled staff — a 9.6 percentage point gap;
26.4 per cent of disabled staff have experienced bullying, harassment or abuse from fellow colleagues, compared with under a fifth (17.2 per cent) of non-disabled staff. That gap is 9.2 percentage points;
34 per cent of disabled staff reported harassment, bullying or abuse at work from patients or service users, relatives or other members of the public, versus 27 per cent for non disabled — a 6.9 point gap;
18.5 per cent of disabled staff reported the same from managers, versus 10.8 per cent for others — a 7.7 point gap; and
78.4 per cent of disabled staff feel their organisation acts fairly in terms of career progression or promotion — 6.9 percentage points less than the share of non-disabled staff.
This is the first time the NHS has published results against these WDES indicators, although analysis can be carried out on previous years' data.
Several of the gaps are larger than the corresponding gaps between white and black and minority ethnic staff groups, reported through the "workforce race equality standard".
Most of the indicators had year-on-year improvements on the 2018 survey, however, and improvements in the gap between disabled and non-disabled staff. These charts show the gap and the change for several key indicators: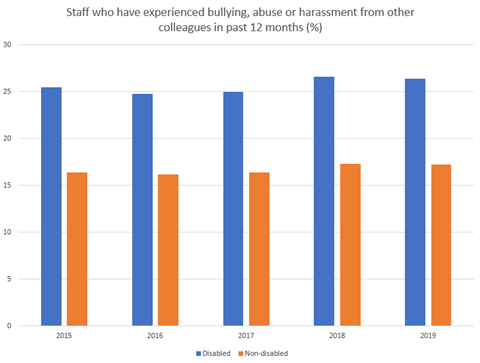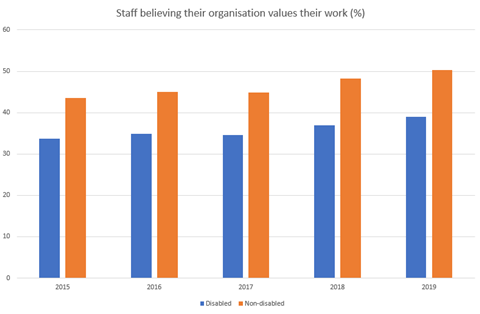 The WDES, which was announced by NHSE in 2016, includes 10 metrics which NHS trusts and foundation trusts are required to collect data on from their workforces before the results are published annually. Several of these, as described above, are based on the staff survey. Others require local collection and are due to be reported by NHSE in its 2019 WDES report, which is scheduled for this winter.
The staff survey also contains new findings for some race equality indicators, which HSJ will report on shortly.
Staff survey: Staff experiencing more violence than last year
1

2

3

4

5

6

Currently reading

Disabled staff face more bullying and unfair treatment