GMC data shows small downward trend for EU doctors being granted a licence to practice in the UK.
More international doctors are applying to the medical watchdog to work in the UK
Numbers of allied health professionals from EU also show a marginal trend downwards 
The numbers of European Union doctors applying to work in the UK has fallen since last year's Brexit referendum but has been mitigated by an influx of international doctors.
Data from the General Medical Council shared with HSJ shows the number of EU doctors granted a licence to practice in the UK between January last year and May this year has fallen from its monthly peak of 289 in July 2016 as part of a small downward trend.
However, the data shows the number of licences granted to international doctors is on an upward trajectory.
The data from the medical watchdog does not show the same "crash" as the numbers of EU nurses registering with the Nursing and Midwifery Council, which dropped from a peak of 1,304 in July 2016 to just 46 in April this year. The nursing drop has also been attributed to tougher language tests brought in by the NMC although it has an overall lower requirement than the GMC.
Charlie Massey, chief executive of the General Medical Council, said: "According to our figures the supply of EEA doctors remains relatively stable but we are of course closely monitoring the situation.
"Our figures show that although there has been a slight decrease in the number of EU doctors applying to join the UK medical register since the referendum, we have also seen fewer EU doctors leaving the register over the same period and an increase in applications from doctors from outside the EU."
He added: "Overseas doctors, including those from the EU, make a huge and vital contribution to health services across the UK. We want to continue attracting good overseas doctors in future, and ensure we do not create any unnecessary barriers that would stop them working here."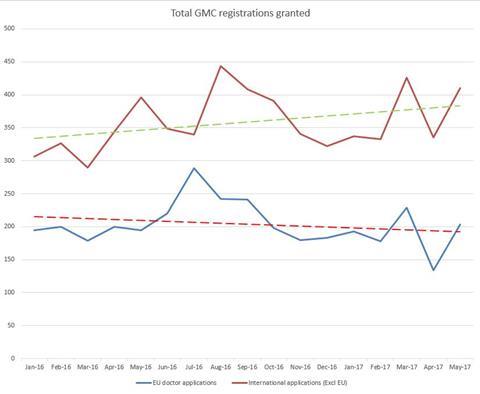 Last week the government asked the Migration Advisory Committee to examine the potential impact of Brexit on the UK's labour market.
Data from the Health and Care Professions Council, which regulates 16 separate allied health professionals such as paramedics and other staff, also shows a marginal downward trend in EU applications from a peak of 198 in May 2016.
Earlier this year HSJ revealed NHS Digital data showed the number of EU staff leaving employment in the NHS had increased 21 per cent from 7,477 in 2015 to 9,023 in 2016.
More than 3,480 EU nurses left the NHS during 2016 – a 38 per cent rise on the 2,520 who left the 12 months before.
The number of EU doctors leaving the NHS increased by 3.5 per cent, with a total of 1,753 leaving in the year to December.
Montly GMC application data
| Date | EU doctor applications | International applications (Excl EU) |
| --- | --- | --- |
| Jan-16 | 195 | 306 |
| Feb-16 | 200 | 327 |
| Mar-16 | 179 | 290 |
| Apr-16 | 200 | 344 |
| May-16 | 195 | 396 |
| Jun-16 | 220 | 349 |
| Jul-16 | 289 | 340 |
| Aug-16 | 242 | 444 |
| Sep-16 | 241 | 408 |
| Oct-16 | 198 | 391 |
| Nov-16 | 180 | 341 |
| Dec-16 | 183 | 322 |
| Jan-17 | 193 | 337 |
| Feb-17 | 178 | 333 |
| Mar-17 | 229 | 426 |
| Apr-17 | 134 | 335 |
| May-17 | 203 | 410 |
Source
General Medical Council