Jeremy Hunt will reveal plan for new NHS workforce strategy at NHS Providers conference
Sources say ministers have been frustrated by the lack of coherent strategy from arm's length bodies
Philip Dunne established committee earlier this year to drive strategy
The health secretary will announce plans for a new national workforce strategy designed to help secure the long term supply of nurses and doctors for the NHS, HSJ can reveal.
Jeremy Hunt will set out plans for the strategy at the NHS Providers conference in Birmingham on Wednesday.
It will be the first time there has been an overarching government-led workforce strategy for the NHS for at least five years.
Mr Hunt will explain how the government aims to bring together work by the arm's length bodies to provide a whole system view of workforce pressures and how they will be tackled.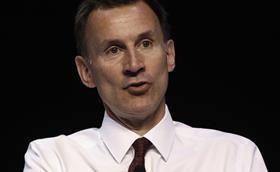 HSJ has also learned health minister Philip Dunne established, and is chair of, a ministerial committee on workforce earlier this year. The committee includes NHS England, NHS Improvement, Health Education England and NHS Employers.
It was set up after "ministerial frustration at the lack of a coherent workforce strategy from the arm's length bodies", a Department of Health source said.
HSJ understands there is acceptance at the DH that workforce issues need a longer term view and "a single version of the truth" is required across all national bodies.
The creation of the committee follows work by DH workforce director Gavin Larner in autumn 2016, which scoped out the challenges facing the NHS through to 2025 and was an attempt to develop a national strategy.
Sources said this was initially abandoned because of reluctance by the DH to be viewed as responsible for NHS workforce, and to solve its problems, when it believed arm's length bodies shared this role and needed to be doing more. This directly led to the creation of Mr Dunne's committee.
One source close to the work said: "The department recognised that more needed to be done on the workforce challenge facing the health service. Last year the view was that a single document would have limited value and instead the DH needed to deliver alignment between the ALBs.
"The ministerial committee has been taking forward the workforce strategy since then."
Another source said: "Now finally there is some pragmatism and realism but a bit late in my honest opinion. Still we now have a chance to redress the issues with this strategy but the question is what we want and what we can afford."
There will now be work to produce a single document, several sources told HSJ. HSJ understands HEE will lead work on the new strategy with the intention that it could be completed as early as December.
In recent months, the government has announced a 25 per cent increase in nurse training places; new work on improving retention of existing staff; plans to increase the mental health workforce; and international recruitment of GPs.
Other policies have included providing affordable housing for nurses and Mr Hunt has said the Treasury must find more money for pay rises. He has also urged trusts to do more around flexible working and said he is confident EU staff will be able to stay in the UK after Brexit.
Mr Hunt's speech will follow reports by NHS Providers, the King's Fund, other think tanks and royal colleges highlighting the mounting pressures on nurse staffing levels, medical rota gaps and shortages across services.
Recent data from the Nursing and Midwifery Council has highlighted increases in the number of nurses leaving the profession, while HSJ has reported on the rise in EU staff leaving the NHS.
HEE, which is responsible for workforce planning, had its budget frozen following the 2015 autumn statement and has not published a full workforce plan, as required by the Health and Social Care Act, since 2015-16. HSJ asked for the plan each month since December 2016.
The DH was approached for comment.