HSJ understands redundancy payment has not been reclaimed and NHS has no plan to do so
Hancock said he used powers to ensure it was taken back
A £210,000 exit payment to a commissioning chief who returned to the NHS after taking redundancy has not been reclaimed by the service – contrary to a claim by the health secretary that it had been – HSJ understands.
Matt Hancock said in a press release last week that he had "exercised my authority as health secretary to reclaim" redundancy payment to Ian Stidston – a senior manager in Essex – and that "this money… can now be spent on patients instead".
However, HSJ now understands the money has not been reclaimed, and there is no current plan by the NHS to do so.
Mr Stidston was made redundant by Castle Point and Rochford Clinical Commissioning Group in Essex and left in April 2018, with a redundancy payment of between £150,000 and £155,000 and an additional £50,000 to £55,000 as pay in lieu in notice. The payment totalled £210,833.
He then started work at Thurrock CCG in December doing project work, and remains employed by that CCG as interim director of commissioning.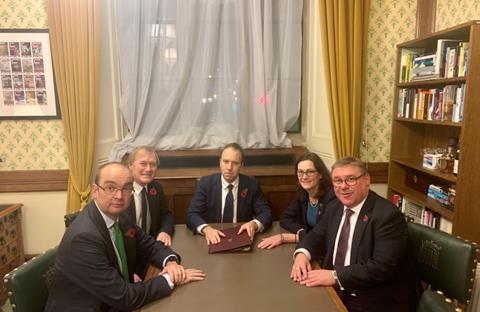 Rules introduced by government in 2016 – and since included in NHS contracts – suggest on the face of it that, because he took up a similar NHS role within a year of leaving, Mr Stidston would have to pay back at least part of the redundancy payment.
These developments have been covered in the press in recent weeks, and last week, four Conservative Essex MPs held a meeting with Mr Hancock in Parliament, where they were told he had used his powers to reclaim the money.
He was pictured with the MPs – one of whom is prominent Brexiteer Mark Francois – in the Echo newspaper in Essex, under the headline "Southend NHS boss ordered to pay back eye-watering £200k redundancy payment."
In a press release issued by the MPs, Mr Hancock is quoted as saying: "I am pleased that because of legislation passed by the Conservative government, I have the power to intervene in cases like this.
"I have therefore exercised my authority as health secretary to reclaim this money, which can now be spent on patients instead."
However, HSJ understands Mr Stidston has not been asked to repay the money, and the NHS has no current plans to reclaim it from him. There has been no official confirmation to HSJ of the position and next steps, and a spokesman for Mr Hancock said he still expected the money to be reclaimed."
A spokesman for Mr Hancock told HSJ he had sought legal advice before ordering the NHS to reclaim the money two weeks ago, and added: "He is still expecting it to be reclaimed."
HSJ was told there has been a transfer of money in relation to part or all of the payment from Thurrock CCG (the manager's current employer) to Castle Point and Rochford CCG (his previous employer).
The reason Mr Stidston has not been asked to repay any of the money is not clear and the NHS organisations involved have declined to comment on this.
However, HSJ understands there is now a plan to issue new official national guidance on dealing with senior staff redundancy payments and repayments. NHS Employers has also been asked to change its website to make it clear that the repayment rules apply when very senior managers return in any role, not only other VSM roles.
The NHS nationally is also expected to expand rules and processes in relation to procuring consultancy services, to ensure that anyone made redundant by the NHS and then employed as a consultant makes relevant repayments.
Thurrock CCG said in a statement: "NHS Thurrock CCG was made aware of the redundancy payment before hiring.
"The national NHS terms and conditions set out clear guidance regarding an NHS employee being hired by another NHS organisation following redundancy. Thurrock CCG confirms that it fully complied with the NHS terms and conditions regarding the hiring of Ian Stidston."
An NHS England/Improvement spokesperson said: "These rules must be followed, and action will be taken if and when any apparent individual discrepancies are identified."
The Department for Health and Social Care said it was unable to comment because of pre-election purdah restrictions.
HSJ sought comment from Mr Stidston.