NHSE/I document indicates growth of new nursing associate role reduces demand for registered nurses
There will still be an 8 per cent nursing vacancy rate in 2024, under current plans
Overseas recruits would need to return to pre-Brexit growth
NHSE/I says its modelling has not been completed and the figures, from October, are "old"
National plans to increase nurse staffing by more than 40,000 depend on an assumption that recruiting thousands of new nursing associates will reduce "demand" for registered nurses by 10,000, according to modelling leaked to HSJ.
The NHS People Plan modelling document seen by HSJ also reveals:
The document, dated October, details the "workforce impact of People Plan initiatives", which for nursing and midwifery have a planned "combined impact of… an estimated 45,400 additional [full time equivalents] by 2024".
However, included in the 45,400 total in the NHSE/I October document is a figure of 10,200 attached to what the document refers to as "skill mix between nursing associates (NAs) and registered nurses (RNs)".
This 10,200 figure does not represent additional registered nurses, the document indicates. Instead, it says, it is based on an assumption that "expansion in numbers of NAs can… help to reduce growth in demand for RNs".
The leaked modelling document says: "The introduction of the NA role is designed in part to free up time for RNs and enable them to undertake more advanced roles… Expansion in numbers of NAs can therefore help to reduce growth in demand for RNs… Our skill mix assumption is that each NA in the workforce will reduce nursing workforce demand by 0.5 [full time equivalents]."
It will concern those who are worried about NAs being used as a substitute for registered nurses. One nursing professor warned of neglecting the "safety critical" role of RNs.
Nursing associates are a new role in the health service involving substantially less training than nursing and with a different professional registration, intended "to help bridge the gap between health and care assistants and registered nurses". Multiple official warnings have been given, including by the Care Quality Commission, about deploying them safely and not substituting them for RNs.
The document is marked: "Numbers are not finalised. Not for wider circulation."
In its "modelling assumptions", the leaked document says: "We assume that the NA pipeline will continue to recruit 7,500 trainees a year from 2019-20."
The interim People Plan published in June said its "actions will enable the NHS to grow the nursing workforce by over 40,000 by 2024" — similar to the modelling document's 45,400 — including by what it describes as "providing clear pathways into the profession and further developing additional entry routes through the nursing associate qualification and apprenticeships".
In addition to concerns about RN substitution, there are likely to be doubts over whether the rapid expansion of NAs outlined in the document seen by HSJ is plausible. An independent evaluation of the training programme, which began in January 2017, found a student attrition rate of 16 per cent, and the new document includes no proposals to improve that.
Alison Leary, professor of healthcare and workforce modelling at London South Bank University, questioned whether the assumptions in the document were safe, "in particular the assumption that NAs would reduce RN demand by 0.5 full time equivalents".
She said: "This appears to support a fairly simplistic model in which nursing work is a hierarchy of technical tasks. This neglects the important aspects of the safety critical and organisational nature of the work for registered nurses in handling risk and complexity."
Professor Leary said the model also "supported the suspicion that many in the profession and safety researchers have had – that the intention of introducing a less educated and lower paid worker is to substitute for registered nurses".
Several other sources of substantial increased nurse numbers are mentioned in the NHSE/I modelling, to add up to the "combined impact" of the additional 45,400 FTEs.
These include overseas recruitment, retention, return to practice, an additional clinical placement drive, NAs training to convert to become registered nurses, and reducing attrition from training.
NHS staffing is at the centre of the current general election battle, and the main parties' commitments, which include greater funding for training and supporting trainee nurses, are likely to shape the workforce plan after the election.
HSJ's finding comes amid a row in particular over the Conservative party's election promise to grow the nursing workforce by 50,000 over the next five years.
It is unclear how closely their plans are based on NHSE/I's People Plan work, although a Tory party source told HSJ he was not aware of the 10,200 figure. Health and social care secretary Matt Hancock has recently said on Twitter in relation to the 50,000 net increase: "They will be RNs."
The Conservatives have said their 50,000 figure is made up of several sources, which are similar but not identical to those in the NHSE/I modelling.
This table shows how the NHSE/I numbers and the Tories' figures compare:
| | | |
| --- | --- | --- |
| | Conservative figures* | NHSE/I model |
| Overseas recruitment | 12,500 | 12,500 |
| Retention | 18,500 | 12,400 |
| Nursing associates to RNs | | 3,020 |
| Return to practice | | 3,000 |
| Skill mix | | 10,200 |
| Reducing attrition from training | | 1,700 |
| Additional clinical placement drive | | 2,500 |
| Trainees | 14,000 | |
| Nursing apprenticeship | 5,000 | |
| Total | 50,000 | 45,320 |
Retention controversy
The inclusion of 18,500 nurses being retained in the Conservatives' 50,000 figure has proved controversial, with some saying it was misleading.
Under the NHSE/I modelling, the retention programme would "deliver an additional 12,400 full time equivalent nurses by 2024", based on a reduction in the "NHS leavers rate from 8 per cent to seven per cent by 2024". According to the document the retention programme, launched in 2017, has already "seen improvement ahead of the projected trajectory".
The document includes a plan to develop a new retention fund which would cost £8m over three years but was "currently unfunded".
Still a large nursing shortfall
The document includes modelling of registered nursing and midwifery supply and demand over the next 10 years (see chart below).
It illustrates that in 2023-24 there would still be a nursing vacancy rate of 8 per cent, with more than 20,000 nursing vacancies – even after all the planned "initiatives", and after the reduced "demand projection" it attributes to the growing NA workforce.
This is down from a vacancy rate of 11 per cent in 2018-19.
The gap between supply and demand also remains in the projections over 10 years — the document says that, by 2028-29, if no action were taken, the vacancy rate would grow from 11 per cent to 26 per cent. With the planned actions it is estimated at 5 per cent.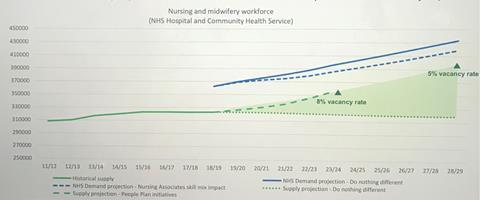 Reliance on overseas recruitment growing again
International recruitment would be the largest single contributor of extra nurses, under NHSE/I's model.
The document says international recruitment "remains the only lever to provide large additional numbers of qualified staff".
"International recruitment has been volatile over a 20 year period," it says, but: "Following the Brexit referendum result in June 2016 the registration of new nurses from the EU has flatlined."
However, it says the People Plan modelling assumes the level of growth before the Brexit referendum – of 4 per cent per year – will now be resumed.
Policies to help this happen include a new approach to identifying overseas staff via agencies, and: "Work with the [Department of Health and Social Care] and professional regulators to support improvements to regulatory processes, exploring where changes may help facilitate streamlining of registration processes and reduction of recruitment timelines." This kind of approach has proved difficult and sometimes controversial in the past.
An NHSE/I spokesman said: "This story is based on old modelling which categorically does not reflect the current plan for expanding the registered nursing workforce." HSJ asked to see any newer modelling but it was not provided.
The Conservatives had not responded to an invitation for further comment at the time of publication.
*Conservative figures as briefed to journalists.
Corrected on 3 December 9.15am to clarify that NAs are registered, on a separate Nursing and Midwifery Council register, although they are not "registered nurses".
Source
Information provided to HSJ