Boost pay in NHS to help social mobility, says report
NHS should make focus on being a "critical social and economic agent" a top priority
Community trusts found to have best employment practices
The NHS "falls short" on enabling social mobility and must improve its commitment to the Living Wage if local health service organisations are to help boost the economic wellbeing of local populations, a think tank has warned.
Analysis by the Centre for Progressive Policy compared the NHS with a wide range of large employers including John Lewis, Capita, Barclays and Boots, as well as other public sector organisations like government departments and the police.
The review, shared with HSJ and due to be published today, said that while the NHS sought to emphasise its social role as an "anchor institution" — organisations which are meant to play a significant role in the local economy — it was not always delivering on it. Trusts must become "exemplar employers", the report says.
"Improving social mobility and pay will be critical for those trusts in poorer places where they can play a particularly large role in determining the economic wellbeing of the local population," said the study, called Simply the best – making the NHS a leader in good employment.
It added: "The NHS is a middle ranking employer in comparison to other large organisations and falls short on social mobility and the real Living Wage."
The think tank recognised that whether trusts can afford to pay the Living Wage, which will rise from £8.21 to £8.72 per hour in April, will depend on how funding for the NHS is allocated.
It called for the NHS to put its role as a "critical social and economic agent… at the heart of everything it does".
"The increasing recognition that trusts can act as anchors to provide good jobs and investment to local areas — particularly areas with higher deprivation — requires a strategic pivot," it said.
It said trusts in areas where the economy has a high reliance on the health and social care sector have "no better or worse employment practices than anywhere else".
The CPP created a 'good employer index' to undertake the comparison. It considers various aspects of "good employment", such as pay and benefits, employment tribunals, working conditions, diversity and work-life balance (see table below).
The study said "considerable differences" between trusts meant there was "little use" in looking at the NHS' performance overall. But, broadly speaking, the NHS was judged a mid-ranking employer, it concluded.
It said: "Four trusts at the top end have similar scores to the top employer in our index (John Lewis) and four at the bottom end have worse scores than the organisation at the bottom of our index (Capita)."
CPP found community trusts were the highest ranked by type of trust, based on good employment practices. Ambulance trusts were the worst.
Although community trusts scored similarly to acute and mental health trusts in most aspects of this year's staff survey, they were more likely to be signed up to schemes such as the Living Wage and Disability Confident, the study found. They were also found to have a lower gender pay gap.
Equalise income
CPP said universal NHS pay scales – with the exception of London weighting – should help to equalise income across the UK.
"Our analysis suggests that there is a positive relationship between local pay and NHS pay, but it is less than 1:1," the report said.
CPP also found NHS staff were happier in areas where non-NHS employer pay levels were lower, like the north east, and unhappier in areas where non-NHS pay was higher, like London.
"This makes sense in the context of universal pay scales and shows that it is harder for trusts to maintain a content workforce in higher pay areas," the report said. "These findings are further reinforced by NHS staff turnover figures, with turnover higher in London trusts."
"The analysis reveals the inherent tension between the NHS as a force for equalising pay across the country and the very real need to recruit and retain staff to meet rising demand in all places," it added.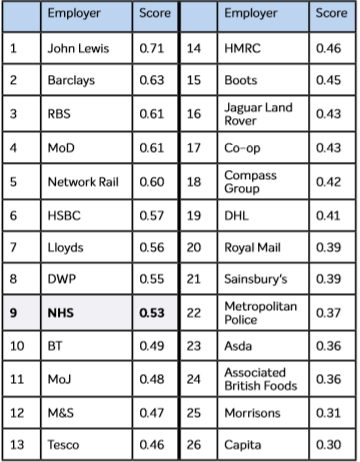 The NHS was placed ninth on a list of the UK's 25 largest employers, but because of "considerable differences" between trusts CPP said there was "little use" looking at the NHS' performance overall.
Source
Centre for Progressive Policy