NHS Improvement describes workforce information that could be published in next quarterly report
Provider sector is "falling short" of targets for agency spending
New protocols for revising financial forecasts
Trusts with "high pay bill growth" to be contacted this month
Regulators have warned that NHS providers are "falling short" of targets to slash agency spending, and may publish lists of the highest earning agency staff at individual trusts.
In a letter sent to trusts by NHS Improvement this afternoon, seen by HSJ, the regulator described the information that could be published in the next quarterly report for the sector.
Information that could be published for specific trusts includes:
an anonymised list of the 20 highest earning agency staff;
an anonymised list of agency staff that have been employed for more than six consecutive months;
agency expenditure performance against agency expenditure ceilings; and
agency information.
It is unclear whether this would be published for all trusts, or just those that are breaching their overall agency spending cap.
The letter, from NHS Improvement chief executive Jim Mackey, said: "I appreciate your hard work and the progress over the last year in reducing spending on agency staff.
"However, across the sector we are falling short of what is needed and must do more to reduce over-reliance on agencies.
"Regional directors will be writing to you shortly to set out further actions in relation to agency spending – some universal and some reserved for trusts that are missing their agency expenditure ceiling."
Other actions include a "closing down" of the use of senior interims through a national approvals process; requiring chief executive oversight and "further reporting to NHS Improvement across areas of high concern"; and measures to ensure boards have sight of prices paid.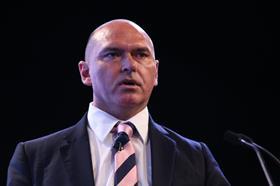 Midway through last year the Department of Health introduced hourly wage caps for agency nurses and doctors, as well as caps on overall trust spending on agency staff.
In 2015-16 trusts spent £3.6bn on agency and contract staff, which was £1.2bn above plan and £500m more than the previous year.
In the first three months of 2016-17 the agency and contract bill was £760m. This was £80m above plan but represented a £100m improvement on the same period last year.
An appendix to the letter also set out new protocols for trusts that wish to revise their financial forecasts.
The provider sector was forecasting a deficit of £644m after the first three months of the financial year, after accounting for £1.8bn sustainability funding. However, several experts have warned that the position could deteriorate significantly.
The appendix said: "If these circumstances occur it is expected that the trust board's primary focus is the delivery of a recovery plan demonstrating the actions and mitigations that they will put in place to ensure that any deterioration in financial position is managed and recovered at the earliest possible time."
It added that revisions to forecast outturns can only be made through the standard quarterly reporting process, and must first have been discussed with an NHSI regional director.
The trust must also provide details of how the trust is reviewing "the acceleration of proposals for sub-scale service consolidation or closure", as well as an assurance statement signed by the chief executive, finance director and chair.
Meanwhile, the letter adds that NHSI teams will contact the relevant trusts this month to discuss the outcome of investigations into "high pay bill growth" at 63 organisations. It says: "In advance of these discussions please would you and your board take the opportunity to fully review the investments in pay that the trust has made over the past two years to ensure that this investment remains appropriate.
"Where investments have been undertaken without board approval please could you ensure that your board is content with any delegated decisions."
The next quarterly report is expected to be published by the end of November.