NHS Improvement launches nationwide staff retention programme
Leaver rates for all clinical staff groups are rising, adding to the NHS's workforce crisis
More than 30 NHS trusts are to be given targeted support from NHS Improvement to help stem the rising tide of workers choosing to leave the health service.
In an interview with HSJ, NHSI nursing director Ruth May set out the regulator's plans to help tackle a growing retention crisis in the NHS. The rate of staff leaving the service has risen across all clinical staff groups over the last four years.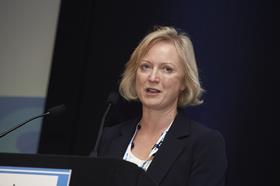 Ms May said some trusts had not had "sufficient focus" on workforce retention in recent years and she accepted efforts to turn the situation around could have started much earlier. But she said NHSI now had an opportunity to provide trusts with tailored support to persuade staff to stay in the NHS. "It's the right thing to do, it's a real priority for me," she added.
Asked whether pay restraint was an elephant in the room for workforce retention strategy, Ms May said: "Pay is part of the equation. We can't ignore it. Having seven years of a freeze on pay is having an impact on retention."
Nineteen trusts with above average leaving rates will be in the first wave of organisations to receive specific clinically led help on halting the flow of nursing staff leaving.
Another 18 mental health trusts will get help to improve retention of all clinical staff with the aim to eventually include all mental health providers. Mental health trusts will be set targets by NHSI to help the sector retain the equivalent of 6,000 full-time staff by 2020.
NHSI will also produce an evidence based improvement guide and toolkit later this summer to share measures from trusts that have successfully retained staff, such as family friendly hours, better rostering, education and training, and pastoral support (see box).
The retention programme, supported by all the NHS arm's length bodies, will also include classes for nursing and HR directors, as well as piloting an engagement tool to help trusts understand why staff may be leaving and analyse their data.
Ms May said: "There is no magic bullet or formula for getting this absolutely right and it is not all down to retention, but we have a major part to play in supporting all of our staff and making sure we can keep them.
"Lots of trusts are doing it and have been doing it, but not necessarily with sufficient focus. Now is the time we believe we have the resource to support the provider sector to do this. There are directors of nursing across England that have had this as a major priority but I don't think that's the case across all directors of nursing. Our effort has got to be how we support them to make this a real focus."
Asked whether this work should have been done earlier, Ms May said: "Perhaps there should have been a more coordinated approach nationally but NHS Improvement has been going for a year. We are now doing it."
Mark Radford, NHSI's director for nursing improvement, said the transaction cost for recruiting a new member of staff was £1,000-£1,200 meaning an improvement in retention could save substantial amounts of money.
NHSI data for 2016 suggests there is a widespread variation in nurse leaving rates across the NHS between organisations and regions. London has the highest rate at 11 per cent, compared to the North East at 8 per cent.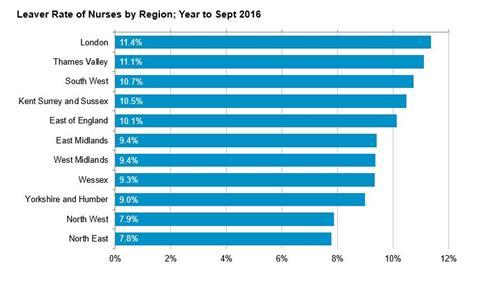 The community sector had the highest nurse leaver rate at more than 14 per cent.

Mr Radford said: "Over the last three or four years, leaver rates have got to a level where we need some interventions to slow that and reduce it. The simple aim is to improve retention for all clinical staff in the NHS provider sector with a specific focus on nursing and mental health settings.
"There are big challenges and our job is to tailor the support package to trusts as well as we can, recognising that lots of trusts are working really hard on this already. I think we have an opportunity to take those who are working extremely well and have some big wins thinking how we can spread that best practice."
He said the NHS needed to focus on newly qualified staff and how well they were supported, along with the flexibility of rotas and training opportunities. Trusts should also consider staff close to retirement and how their knowledge can be retained in new roles.
How trusts have retained their staff
Buckinghamshire Healthcare Trust reduced staff turnover by 2 per cent up to February 2017 after examining why staff were leaving. It improved recognition of good work with monthly staff awards, focus groups, better line management, leadership programmes and improved training and internal transfer processes. It also offered flexible retirement options.
Sandwell and West Birmingham Hospitals Trust reduced nursing turnover by 3 per cent with a £1.1m protected training budget, new employee benefit scheme and a recruitment campaign.
University College London Hospitals Foundation Trust reduced its recruitment costs by creating a new internal transfer process for staff to move to new areas, and offered career advice. There have been more than 160 transfers and a reduction in vacancies and agency staff costs.
Gloucestershire Care Services Trust cut its nursing vacancy rate from 40 per cent to 5 per cent after supporting newly qualified nurses, introducing new training and creating roles to allow staff to develop their careers.