Registration Council for Clinical Physiologists highlights 19 cases of patient harm over two years
RCCP says government must bring in statutory regulation to mitigate risks to patients
Physiologist jailed for fraud after becoming deputy head of a department without qualifications
Patients are being put at "unacceptable risk" because thousands of unregulated NHS staff are being allowed to perform invasive procedures without checks on their qualifications, HSJ has been told.
There are more than 6,000 clinical physiologists working in the service who are employed by hospitals to perform tasks including lung function tests, endoscopies, exercise stress tests, internal ultrasounds and pelvic examinations.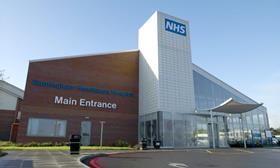 They can work in areas such as respiratory medicine, neurophysiology, gastrointestinal medicine, cardiology and audiology.
The Registration Council for Clinical Physiologists said it believes patients have come to harm because of mistakes made by physiologists, which could be prevented if they were covered by statutory regulation like doctors and nurses.
RCCP research, shared with HSJ, identified 19 incidents raised by its members who are on a voluntary register. At least three cases related to physiologists who lied about their qualifications – including one who became the deputy head of a department at an NHS trust for eight years before being jailed for fraud.
RCCP chief executive Paul Sharpe said the public would be surprised to learn these workers are not already regulated. He said: "We have a lot of these people running around in the health system without a level of control. It is an unacceptable risk.
"One of the things that we find from time to time is if we have a problem with a particular member of our register they can simply resign their position. People can move from register to register, or move from healthcare authority to healthcare authority. There is no overall regulator."
He said statutory regulation and minimum standards of education and training would help. "When clinical physiologists appeared 10 or 15 years ago, they were probably doing low risk work but now because we don't have the other staff like doctors and nurses, some of that work has filtered down and now they do present a risk because of the work they are doing. That risk needs to be mitigated," he said.
The RCCP said the government should introduce statutory regulation as part of its wider reform of the regulatory landscape. Despite ministers' pledging to reforms, no white paper has been produced and they could be significantly delayed due to the current parliamentary session last for two years.
Mr Sharpe said: "Maybe someone will have lost their life in the meantime. I can't say statutory regulation would prevent that but it is part of the mitigation of the risk of that happening."
Clinical physiologists are not required to be registered, nor can a trust demand it. Voluntary registers have no ability to compel staff to give evidence and they cannot be struck off by the RCCP. No action can be taken against a physiologist who is not on the register.
Physiologists can leave the RCCP register at any time regardless of concerns and have no requirement to tell a trust about past issues. Voluntary registers also risk of being sued for defamation if the raise concerns about a practitioner's conduct.
Th RCCP report said: "This report provides real examples of serious professional misconduct and malpractice that in some cases have caused significant and avoidable harm to patients.
"This document includes examples in which patients have been hospitalised, or have even had to be resuscitated due to the incompetence of clinical physiologists. It provides examples in which practitioners have been able to perform tests on patients without the appropriate qualifications or have failed to make vital diagnoses.
"It is likely – perhaps highly likely – that the majority of practitioners referenced in this report remain employed within the NHS and are continuing to perform procedures on patients with the potential to cause serious harm."
The Department of Health was asked if it recognised the risk raised by the RCCP and whether it would commit to bringing in regulation. In a statement the DH suggested it had abandoned plans for any new regulation of healthcare staff saying: "The government recognises the important and highly skilled work that clinical physiologists perform.
"The appalling events at the Mid Staffordshire Foundation Trust have shown us that regulation is no substitute for a culture of compassion and effective supervision which is why we are tackling this issue at its root; focusing on the right training, support and leadership to provide the high quality care that people deserve."
Risks from unregulated workers
Incidents identified by the RCCP between September 2014 and October 2016 included:
Three physiologists working without the necessary qualifications including one physiologist jailed for fraud after lying about his qualifications and being registered with the RCCP. He was deputy head of cardiac physiology at the Heart of England Foundation Trust where he worked for eight years without any of the requirements needed for the role.
A patient died 24 hours after a physiologist carried out an echocardiogram but failed to diagnose a ventricular septal defect, a major abnormality that could have been treated with surgery.
A patient had to be revived after losing consciousness following a respiratory test performed by a physiologist who failed to notice an oxygen cylinder was empty and the patient was deteriorating.
A physiologist administered a much higher dose of a powerful drug as part of an invasive procedure, which caused the patient to suffer a hypertensive event that could have been fatal.
A patient had to be resuscitated after being made to perform demanding exercise twice without a period of rest because the physiologist incompetently measured oxygen levels.
A patient who should have had their cardiac rhythms remotely monitored was incorrectly labelled and collapsed several times before the mistake was corrected.
One patient went more than three years without their pacemaker being reprogrammed, leading to heart failure and hospitalisation.
A patient needed medical intervention after an investigation was started with an incorrect dose that led to a 30 per cent decrease in lung function.