Jim Mackey says he wants to give "the keys back to providers" to run their organisations
NHS Improvement will hold people to account "professionally" with no bullying or aggression
On clinical leadership, Mr Mackey said he "couldn't care less" what people's background was if they have the right skills
NHS Improvement chief executive Jim Mackey has told HSJ the regulator will not bully or intimidate NHS leaders, as part of a wider effort by national bodies to support managers more.
Mr Mackey said NHSI had signed up to a leadership framework for the health service, published last week, and would seek to develop a professional approach in its interventions.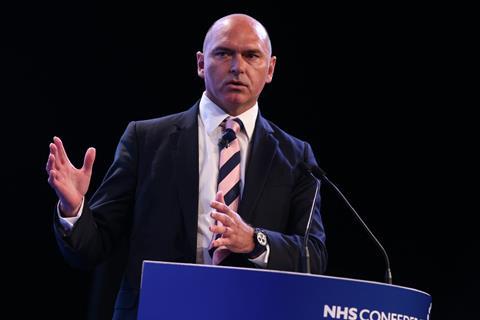 He said: "At no time is it acceptable for anyone to be bullying, intimidating or aggressive. We will try and develop a compact with providers that the interventional end of the spectrum will hold people to account but no one will be shouted at, no one will be intimidated or bullied or made to do anything they can't do, but they will be held to account and you can do that professionally and respectfully."
The framework said national bodies recognised the "unprecedented pressure" facing NHS leaders. It added: "There are not enough leaders with the skills and experience to address these challenges. Too few good candidates are coming forward for senior leadership roles, so vacancy rates remain high. Leaders in post report feeling isolated and less supported than in the past."
Mr Mackey said NHSI recognised there was a problem, but said: "We are trying to give the keys back to providers but they've got to want to take the keys back and run their own organisation.
"Over the last few years the jobs have become harder… a lot of people had to leave in the last few years, a lot of people have been made to leave."
He said the framework was the "first main effort to look long term" at solving the issues surrounding NHS leadership.
The framework includes proposals to improve training for sustainability and transformation plan leaders, and a £1.5m pooled budget for local system leadership support.
Mr Mackey said: "Our best performers don't want anything to do with us. In Northumbria [where Mr Mackey was trust chief executive until November 2015] we had a stated board objective to have nothing to do with the regulators unless we needed something. I have absolutely no problem with that.
"The deal I had with the organisation was that means we had to perform to a higher standard than the regulator wants and in return we do what we need to do, and if anyone tried to interfere I'd tell them to bugger off. And that's where I want people to be."
Health secretary Jeremy Hunt said last week that he wanted more clinicians in senior leadership positions. Asked what his view was, Mr Mackey said: "Whether they are a nurse, a doctor, accountant or lawyer, I honestly couldn't care less if they have the right skills and the skills meet the circumstances that you have at that time.
"I completely get what Jeremy is saying and in some parts of the service clinicians are not having anything to do with it, and we need to address that."
Exclusive: Trusts will not be 'intimidated or bullied', says Mackey
1

Currently reading

Exclusive: Trusts will not be 'intimidated or bullied', says Mackey

2

3