Former DH permanent secretary Sir Hugh Taylor to co-chair Brexit Health Alliance with NHS Confederation chief executive Niall Dickson
Alliance will aim to safeguard NHS interests as the UK government negotiates Brexit
Calls for the government to make commitments on research and funding
An alliance of healthcare industry, charity and lobby groups aims to safeguard the NHS's interests as the UK begins its negotiations to exit the EU.
The Brexit Health Alliance will be co-chaired by the Guy's and St Thomas' Foundation Trust chair Sir Hugh Taylor, who was permanent secretary at the Department of Health between 2006 and 2010, and NHS Confederation chief executive Niall Dickson.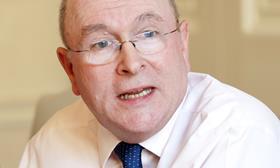 The alliance has been formed to ensure the NHS and the UK healthcare industry are not disadvantaged by the Brexit negotiations.
Members of the alliance include the NHS Confederation, the Academy of Medical Royal Colleges, Association of UK University Hospitals, NHS Providers, National Voices, the Association of the British Pharmaceutical Industry, the Association of British Healthcare Industries, the Richmond Group of Charities, the Faculty of Public Health and the Association of Medical Research Charities.
The group will aim to make sure issues around healthcare research and access to technology and medicine are given prominence during the talks with the EU.
In its first statement, the alliance said it would aim to ensure cooperation between Europe and the UK and called on the government to make sure there is a commitment to research and funding; and to ensure UK citizens' rights to healthcare in EU countries is maintained.
Mr Dickson said: "There is a risk that healthcare will become forgotten alongside the vast number of issues that the negotiators will have to address.
"It is vital we protect world leading research, that patients have access to medicines when they need them and that cooperation between the UK and Europe continues to protect all our citizens."
Sir Hugh said: "We wish to support the government to achieve the best result for patients and for healthcare across the UK.
"We hope that the combined expertise and insight of the alliance will prove useful in helping to secure this. Our aim will be to ensure a strong focus on health as Brexit approaches, and that we offer views from across the health sector to negotiators to ensure that patient care and the population's health and wellbeing will be protected as we leave the EU."
The Cavendish Coalition, led by NHS Employers, was also formed to focus on staffing and workforce issues. The coalition has called for the government to value EU workers in health and social care by their public value to the UK, rather than their salary, under immigration rules.