Sir Robert Francis says lifting pay cap should be part of several measures to improve morale
Pay rise would not be worth more if "economy collapses"
Sir Robert warns NHS leaders face constant pressure to "balance the books"
Lifting the public sector pay cap may be a "mirage" in the drive towards improving NHS staff morale, Sir Robert Francis QC has said.
The Mid Staffordshire inquiry chair said removing the 1 per cent pay cap should not be seen in isolation but be part of a package of measures to make staff feel more valued.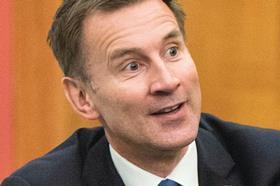 He said removing the cap could be a "mirage", adding: "You could pay people more and the economy collapses so it might not be worth more."
In recent weeks, cabinet members have suggested the government could consider lifting the pay of public sector workers, while Jeremy Hunt has hinted that he could lobby for an end to pay restraint.
Taking questions from the audience at the Patient Safety Congress in Manchester yesterday, Sir Robert said improving staff morale was not just about pay but how staff were looked after and their working conditions.
He said: "If you have staff believing they are not being fairly treated, you need to do something about it. In fact, you need to do a lot about it. But pay would never be enough.
"We need to do whatever it takes to recruit more people and make the job more attractive for them. That may involve more pay but also involves better conditions such as not working extra hours without being paid for them.
"Clearly, how people are asked to work is something you can probably do without spending much money on it. It needs to be looked at as a package and not just a figure in isolation."
HSJ reported last week that NHS Improvement is working with more than 30 trusts as part of a nationwide staff retention programme.
During his speech, Sir Robert said 2016's NHS staff survey showed 59 per cent of staff worked unpaid overtime every week, which was "scandalous".
He said the survey found 37 per cent of staff reported work related stress and 59 per cent felt unable to deliver the care they aspired to deliver.
Sir Robert said: "The 1 per cent public sector cap means that the real earnings of staff have decreased for a number of years, particularly those in relatively low paid jobs.
"This will have done nothing for their morale.
"What message does it give to those doing some of the most important work in our society? For how long can we expect the service to rely on discretionary and sometimes unpaid effort."
He also said last year's junior doctors' strike was about "more than pay".
"It might have been interpreted as a cry for help from a beleaguered frontline," he said.
"It is absolutely vital that the staff of the NHS feel valued, not just financially, but through the support they receive, the training opportunities, and above all the space they are given for reflection on their work and how they can contribute to better outcomes for patients.
"A caring organisation needs to care for its staff so they can care for their patients."
Talking about what may have changed in the NHS since his 2013 report into the Mid Staffordshire scandal, Sir Robert said NHS leaders now faced constant pressure to "balance the books".
He added: "Regrettably there remains a relentless focus on finance and the need for economy, which risks driving away the attention needed for preserving and improving safety and quality.
"What is encouraging is that so many organisations have resisted the temptation to make the economies that might compromise safety and quality."